Link to this page: https://www.socialistparty.org.uk/issue/516/3640
From The Socialist newspaper, 17 January 2008
Reinstate Karen Reissman -
Defend mental health services!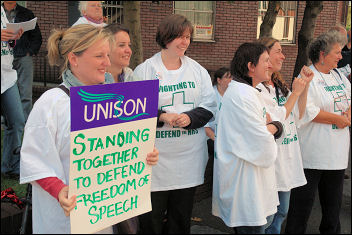 Manchester mental health workers on strike, photo Christian Bunke
The fight continues to reverse the sacking of community psychiatric nurse Karen Reissmann, and to oppose further cuts in mental health services.
Hugh Caffrey, Manchester
According to trust bosses, Karen was sacked for 'bringing the Trust into disrepute' but in reality the bosses want to break the union which opposes their cuts.
Sacking Karen provoked weeks of strike action and widespread solidarity protests. Workers returned to work to prepare for the next round of struggle. This is inevitable, given the £3 million cuts management intend to make.
Unison's leadership pledged a 'national campaign'. Further industrial action, backed by solidarity action, is needed. Karen's Unison branch has called for a lobby of mental health minister Ivan Lewis, notorious Blairite MP for Bury South, at the end of January.
Unison should mobilise its strength - the membership and not just the legal department, in support of such actions. If the leadership again proves unwilling to lead, then a direct appeal to workers could gain huge support.
Manchester's Labour councillors kept quiet while health services were decimated across the city last year and a council spokesperson viciously attacked strikers in the press.
A lobbying campaign of individuals has begun, intended to culminate in moving a motion to the full council meeting in late February. The best way to pressurise councillors is by building support among workers in their wards.
Socialist Party members in Baguley-Wythenshawe are doing that as we prepare to stand Lynn Worthington against Trust board member Tony Burns.
Council leader Richard Leese faces re-election in Crumpsall, as do several of his cronies nearby. Street campaigning, and preparing a "save our health service" electoral challenge for May, could challenge New Labour and mobilise more people in support of the health workers' struggle.
Lobby MP Ivan Lewis, Friday 25 January, 5pm at 381 Bury New Rd, Prestwich, M25 1AW.
Next solidarity group meeting, Monday 21 Jan, 6pm, Mechanics Institute, Princess St. Trade unionists and all supporters welcome.
See www.reinstate-karen.org for more info or contact the Socialist Party locally on 07769 611 320.
Donate to the Socialist Party
Coronavirus crisis - Finance appeal
The coronavirus crisis has laid bare the class character of society in numerous ways. It is making clear to many that it is the working class that keeps society running, not the CEOs of major corporations.
The results of austerity have been graphically demonstrated as public services strain to cope with the crisis.
The government has now ripped up its 'austerity' mantra and turned to policies that not long ago were denounced as socialist. But after the corona crisis, it will try to make the working class pay for it, by trying to claw back what has been given.
The Socialist Party's material is more vital than ever, so we can continue to report from workers who are fighting for better health and safety measures, against layoffs, for adequate staffing levels, etc.
Our 'fighting coronavirus workers' charter', outlines a programme to combat the virus and protect workers' living conditions.
When the health crisis subsides, we must be ready for the stormy events ahead and the need to arm workers' movements with a socialist programme - one which puts the health and needs of humanity before the profits of a few.
Inevitably, during the crisis we have not been able to sell the Socialist and raise funds in the ways we normally would.
We therefore urgently appeal to all our viewers to donate to our special coronavirus appeal.
---
In The Socialist 17 January 2008:

Fight for a living wage

Burslem: Support victimised postal workers

Editorial: Fight three year low pay tie-ins
---
Environment and socialism

Stop nuclear power plans NOW!

Is the burning of fossil fuels causing climate change?
---
Sleaze

Hain's sorry saga of sleaze

Blair's rewards from big business
---
Anti-Cuts campaigns

Fire cuts threat to our public safety

Cardiff schools campaign grows
---
Housing Crisis

Nationalise Northern Rock - permanently

Growing crisis in housing
---
Socialist Party news

Save our post offices

Salford says: "Don't close our women's centre"

'Them and Us': news shorts
---
Trade unions

Feature: Building the shop stewards' movement
---
Socialist Party campaigning

Ideas for campaigning and fundraising
---
International socialist news and analysis

Sri Lanka: New year starts with atrocities

Biggest miners' underground occupation in Polish history
---
Socialist Party review

Review: More Time for Politics, Diaries 2001-2007, by Tony Benn
---
Socialist Party workplace news

Reinstate Karen Reissman - defend mental health services!

Derby nurses fight management attacks

Liverpool: City of Cuts

Vote Jim Cessford
---
Home | The Socialist 17 January 2008 | Join the Socialist Party
---