Link to this page: https://www.socialistparty.org.uk/issue/516/3650
From The Socialist newspaper, 17 January 2008
Ideas for campaigning and fundraising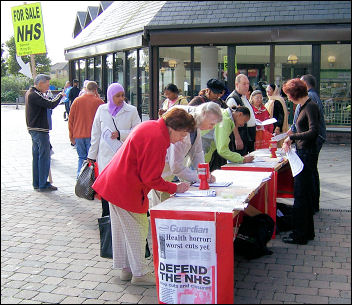 Selling The Socialist in Waltham Forest, photo Alison Hill
The Cardiff branch of the Socialist Party raised £6,800 in 2007 to help fund the campaigning work of the party. Cardiff fighting fund organiser, Joe Fathallah, gives the essential steps for a successful campaigning stall:
Unlike the big capitalist parties, which receive funding from rich business people to serve their interests, the Socialist Party relies on donations from ordinary working-class people supporting our party and our campaigns.
Holding regular street stalls is a great way for branches to campaign on the issues affecting the lives of ordinary people, as well as raising the money we need and convincing people to join the Socialist Party.
There are many issues that Socialist Party branches are campaigning on. For example, if a local school is being threatened with closure, it is often our party members who are out campaigning against the closure.
Almost all issues tend to be political, so it is worth finding out all the background details.
Perhaps the council is planning to demolish the school to sell the land to a private property developer who could make a massive profit from it.
Thirst for profits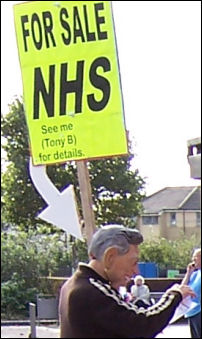 Selling The Socialist in Waltham Forest, photo Alison Hill
If you can explain what lies behind such plans and decisions, it reveals the root of them to people - often capitalism's blind thirst for profits above anything else.
You may also be able to convince them to join the Socialist Party. If you think someone may be interested, don't be afraid to ask.
If they are interested in joining, make sure you take their contact details and invite them to local branch meetings too.
The way you set up your campaign stall can make a big difference to how many people you attract. Try to pick a time and location where a lot of people will be present, say, for instance, a busy marketplace on a Saturday afternoon.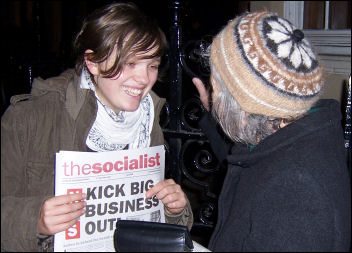 Socialist Party members sell The Socialist, photo Paul Mattsson
Obviously, you will need a table - fold-up pasting tables work well - but also make some placards and place them where people can see them, with slogans explaining your campaign.
In our example, this might simply be 'Save Our School!' with the Socialist Party name and logo.
Bring plenty of copies of the socialist to sell, petitions for people to sign on your issue, any leaflets you have which may be relevant, and, very importantly, Socialist Party joining cards.
Make sure you have plenty of pens too.
So your stall is set up and you are ready to go. Make sure you talk to people walking past directly, asking them to sign your petition. Randomly shouting slogans into mid air is far less effective.
When people sign your petition, discuss the political issues behind your campaign with them, and see how they respond.
This is the best way to find out who could be interested in helping the campaign or joining the party.
Also, ask everyone for a donation to help the campaign, and ask them to buy a copy of the socialist.
Selling the paper is an important way to help people find out about socialist ideas.
So, good luck with your fundraising and be sure to write articles for the socialist on how your campaigns go.
Donate to the Socialist Party
Coronavirus crisis - Finance appeal
The coronavirus crisis has laid bare the class character of society in numerous ways. It is making clear to many that it is the working class that keeps society running, not the CEOs of major corporations.
The results of austerity have been graphically demonstrated as public services strain to cope with the crisis.
The government has now ripped up its 'austerity' mantra and turned to policies that not long ago were denounced as socialist. But after the corona crisis, it will try to make the working class pay for it, by trying to claw back what has been given.
The Socialist Party's material is more vital than ever, so we can continue to report from workers who are fighting for better health and safety measures, against layoffs, for adequate staffing levels, etc.
Our 'fighting coronavirus workers' charter', outlines a programme to combat the virus and protect workers' living conditions.
When the health crisis subsides, we must be ready for the stormy events ahead and the need to arm workers' movements with a socialist programme - one which puts the health and needs of humanity before the profits of a few.
Inevitably, during the crisis we have not been able to sell the Socialist and raise funds in the ways we normally would.
We therefore urgently appeal to all our viewers to donate to our special coronavirus appeal.
---
In The Socialist 17 January 2008:

Fight for a living wage

Burslem: Support victimised postal workers

Editorial: Fight three year low pay tie-ins
---
Environment and socialism

Stop nuclear power plans NOW!

Is the burning of fossil fuels causing climate change?
---
Sleaze

Hain's sorry saga of sleaze

Blair's rewards from big business
---
Anti-Cuts campaigns

Fire cuts threat to our public safety

Cardiff schools campaign grows
---
Housing Crisis

Nationalise Northern Rock - permanently

Growing crisis in housing
---
Socialist Party news

Save our post offices

Salford says: "Don't close our women's centre"

'Them and Us': news shorts
---
Trade unions

Feature: Building the shop stewards' movement
---
Socialist Party campaigning

Ideas for campaigning and fundraising
---
International socialist news and analysis

Sri Lanka: New year starts with atrocities

Biggest miners' underground occupation in Polish history
---
Socialist Party review

Review: More Time for Politics, Diaries 2001-2007, by Tony Benn
---
Socialist Party workplace news

Reinstate Karen Reissman - defend mental health services!

Derby nurses fight management attacks

Liverpool: City of Cuts

Vote Jim Cessford
---
Home | The Socialist 17 January 2008 | Join the Socialist Party
---