Link to this page: https://www.socialistparty.org.uk/issue/523/3848
From The Socialist newspaper, 4 March 2008
Angry civil servants strike over pay
Over 8,000 PCS members in the Department for Transport (DfT) took strike action across Wales, England and Scotland on 29 February to campaign for the same pay rates across the department and to defend jobs. A PCS member from DVLA Swansea reports: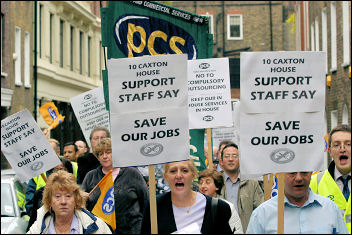 PCS workers on strike, photo Paul Mattsson
The mood was excellent on our picket line and all the reports I have had so far from the rest of the DVLA, including the local offices, is that the turn out was really solid. It was a real step forward that we at DVLA linked up with our colleagues across the Df T to take action on pay and jobs.
DVLA is one of the lowest-paid parts of our department and it is mostly female workers. The Treasury has admitted to PCS that it saves £17 million a year by keeping our wages low at DVLA in Swansea compared to the rest of DfT. It is regional pay through the backdoor.
People are really angry about this, as you'd expect and I am confident that PCS's determination to address these problems of unequal and low pay can only lead to the union's membership increasing.
There are eight agencies in the DfT and all voted to reject their below-inflation pay offers, only to find management imposing it on us anyway! It's really got people's backs up. People are really struggling to stay afloat yet it's hard to believe that the Treasury is really so hard up!
This dispute is also about defending jobs. The government are making another 5% of cuts on 31 March this year and people are now starting to wake up to the fact that big cuts are coming. PCS is seeking a guarantee of no compulsory redundancies and that anyone whose job does go is suitably redeployed within the department.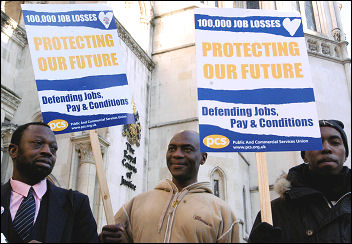 PCS workers on strike, photo Paul Mattsson
People are feeling increasingly insecure at work because we know all about the so-called headcount reductions and we want to be treated like human beings with rights, not dispensable robots. They are also looking for a change from the old right-wing 'politics of defeat' of the present branch officers and are starting to seek out militant trade unionists prepared to have a go!
Overall, this strike (followed by a one-week work to rule) is a promising start to making PCS stronger in my workplace. By my branch getting on board with PCS across the department I really believe effective, campaigning trade unionism will rise again in the 'sleeping giant' that is DVLA Swansea.
However, a key task in this includes strengthening our links with our colleagues in the commercial sector (hundreds of contractors work on the same site).
They have their own problems due to privatisation but also common themes such as low pay for the majority - ie not the consultants! The support we received from the builders, caterers, cleaners and many of the IT staff was extremely welcome and very heartening for the future.
Why not click here to join the Socialist Party, or click here to donate to the Socialist Party.
---
In The Socialist 4 March 2008:

Unite for a living wage

Greenwich workers score victory against single status

Angry civil servants strike over pay
---
Socialist Party NHS campaign

Thousands protest at threats to hospital

Rewarded for zeal at cuts

Derby health workers
---
International Women's Day

Fight for a woman's right to choose
---
Anti-War

DEMONSTRATE

$3 trillion Iraq war

Sheffield activists fight militarism
---
Environment and socialism

Walthamstow 'RAPpers' against toxic incinerators
---
Socialist Party news and analysis

Housing association collapses

Meet Brown's new finance expert

Fans blow whistle on Game 39

Campaign to Defeat Fees

Swansea - no sign of Griffin!
---
International socialist news and analysis

Turkey's invasion destabilising region

Russian election

EU war with super-rich?
---
Workplace news and analysis

Pensions under attack

Unison witch-hunt: Members bite back

Teachers must reject real pay cuts

Greenwich workers fight attacks

Socialist Party member stands for Unite (T&G) general executive
---
Home | The Socialist 4 March 2008 | Join the Socialist Party
---