Link to this page: https://www.socialistparty.org.uk/issue/524/3887
From The Socialist newspaper, 12 March 2008
Prison officers reject pay offer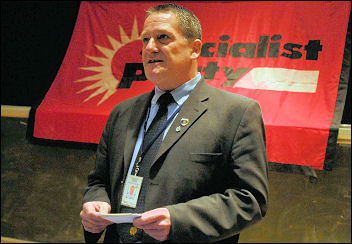 John Hancock, speaking at Socialist Party congress 2008, photo Paul Mattsson
ON 8 March, John Hancock, (above) branch secretary of the Prison Officers Association (POA) in Wormwood Scrubs prison, west London, brought greetings to the Socialist Party's annual conference. He described 2007 as "a remarkable year", when the POA held its first ever national strike.
He explained that the catalyst for the strike was the phasing in of a pay award, making it only worth 1.9% but there are many other issues which prison officers are angry about. The number of prisoners doubled over the last ten years, but the number of prison officers has been halved. Assaults are up by 50% on male staff and by 110% on female staff.
Justice minister Jack Straw called the strike illegal, took out an injunction on the POA and subsequently banned prison staff from striking. But "we deserve to be treated as a free, independent trade union," John declared, before thanking The Socialist for the coverage of their dispute.
Now, 85% of POA members in England and Wales have voted to reject the 2008 pay offer of 2.2%. They are still in dispute over last year's pay, so there could be further confrontations with the government in the near future.
Why not click here to join the Socialist Party, or click here to donate to the Socialist Party.
---
In The Socialist 12 March 2008:

Demonstrate

End the occupation

Gaza - end the bloodshed!

Iraq, Afghanistan: The bitter fruits of war and occupation

School student strikes

US & UK students in anti-war protest
---
Workplace news and analysis

Fight for a living wage!

Coastguards strike

Land Registry votes to reject pay offer

Wales further education pay dispute: Vote 'yes' in strike ballot

Shelter workers' strike success

Prison officers reject pay offer

March for pay justice
---
Socialist Party NHS campaign

Derby nurses fight PFI pay cuts

Hospital trusts... who makes the decisions?

Cuts continue despite financial surpluses
---
Post Office closures

Stroud - Save our post office!

London - Fight the closures
---
Socialist Party feature

World's poor hit by rocketing food prices
---
International socialist news

New period of workers' militancy in Germany
---
Socialist Party review

Profit motive and the whispering wind
---
Home | The Socialist 12 March 2008 | Join the Socialist Party
---