Link to this page: https://www.socialistparty.org.uk/issue/527/3958
From The Socialist newspaper, 2 April 2008
End Labour's 'them and us' society
Build a socialist alternative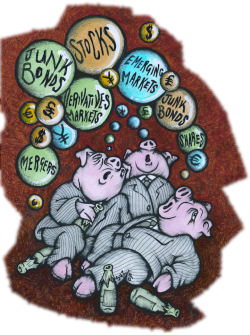 The feast is over, but the pigs are still at the trough. Cartoon by Suz. From Socialism Today, May 2007
You could not make it up. Disgraced former Northern Rock chief executive Adam Applegarth will get a payout of £760,000! We're told that this will be paid monthly and will cease if he finds another job.
Greg Maughan
Hang on a second, Northern Rock's been nationalised. So that is our cash he's getting. Applegarth has been paid almost £10 million over the last five years, but to all intents and purposes he's now claiming jobseeker's allowance!
What about the 2,000 Northern Rock workers, mostly in the north east, whose jobs are being cut? Will they get as handsome a sum as Applegarth?
Or will they be expected to queue at the job centre and subsist on basic jobseeker's allowance? As usual, it is one rule for the disgraced-but-minted former-chief executive and another rule for the rest of us!
Everywhere you look today, it's the same. The wealth gap is a gaping chasm and different rules apply depending on what side of it you're on.
Tax? 'Non-doms' don't have to worry about it. Rich tax exiles in Monaco fork out £878 for a taxi to Nice airport to fly in and out of London to avoid paying their share.
Lord Sainsbury, New Labour's biggest donor, has transferred £340 million worth of shares to a firm he controls in order to dodge more than £27 million of tax. But for us, taxes go up.
Those on low incomes, who previously benefited from the 10% tax band, will now suffer an increase in their tax bills, as from April 2008 the band has been abolished.
The establishment politicians can't be trusted to reduce the wealth gap - they aspire to scrounge like the fat cats they represent!
The 'John Lewis list' of expenses exposed this. MPs can claim £270 for a DVD player. You can get one from Tesco for £14.97. Every little helps, but in the MPs' case a little more's alright!
Why should we pay for their DVD players anyway? So they can put their feet up with a mug of coffee from their £100 coffee-maker and watch the Shameless box-set to find out how the working-classes live? MPs should get the same wages as us and know what real working people's lives are like.
In the Guardian last week, Polly Toynbee wrote that things used to be different: "Above all, parties stood for different class and economic interests. Them-and-us was spelled out loud and clear: whose side are you on, who stands up for people like us?"
That 'them-and-us' divide is clearer than ever in our daily lives, but it is not given a mass political expression. We need a new party on a national scale that stands against scrounging millionaires and sleaze-ridden MPs.
In the coming council elections Socialist Party and other anti-cuts, anti-privatisation candidates will be standing, including socialist councillor Dave Nellist, defending his seat in St Michael's, Coventry. In these areas workers are given an 'us' to vote for.
When this alternative is offered on a national scale in the form of a new mass workers' party we will begin to seriously challenge the rule of big business and the misery it brings.
Why not click here to join the Socialist Party, or click here to donate to the Socialist Party.
---
In The Socialist 2 April 2008:

End Labour's 'them and us' society

Capitalism gambles with our lives

Editorial: For a 35-hour week with no loss of pay
---
Socialist Party campaigns

Victory shows campaigning can save out NHS!

"Halve your expenses and save our post offices"
---
Environment

The devastating effects of biofuels

Airports: Expanding profits at our expense
---
Socialist Students

ID cards: No to students being used as guinea pigs!

National Union of Students rejects constitutional changes
---
Workplace news and analysis

Fight back against the Unison witch-hunt!

Jaguar/Land Rover: Uncertain future for workers

Tube workers strike to defend network safety

Shelter staff ask for support

NUJ Members fight attacks on jobs and conditions

Teachers vote to strike

National Shop Stewards Network second conference
---
Marxist analysis: history

1848: year of revolution
---
International socialist news and analysis

USA elections: Break with the two parties of big business!

Kazakhstan socialist jailed for protesting
---
Socialist Party review

From Russia: French and Russian master paintings 1870-1925 from Moscow and St Petersburg
---
Home | The Socialist 2 April 2008 | Join the Socialist Party
---