Link to this page: https://www.socialistparty.org.uk/issue/531/4060
From The Socialist newspaper, 30 April 2008
Stop PFI pirates wrecking our NHS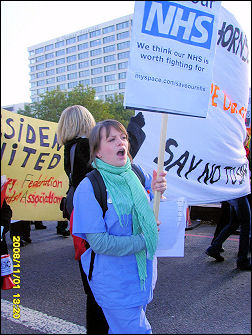 The PUSH NHS demonstration in 2006 called for a national demonstration, photo Sarah Sachs-Eldridge
THE NATIONAL Health Service has its 60th birthday this July. Can working people still celebrate this vital service which they struggled for years to obtain, to build and, in recent years, to try to safeguard against attacks?
Keith White
Unfortunately the NHS today is in a perilous state. NHS workers show plenty of commitment to the health service but the pernicious attitude of New Labour and the other mainstream political parties is destroying it. Government-inspired privatisation of large sections of the NHS is having a disastrous impact.
The most obvious example is the Private Finance Initiative (PFI), where profit-seeking corporations build and run our hospitals and rent them back to the NHS. This is draining the life blood out of hospitals with the massive rents they charge.
Take East Lancashire Hospitals NHS Trust, covering Blackburn, Burnley and Pendle, as an example. It now has to pay back over £1 billion over 30 years for hospitals, built under the PFI, which only cost £150 million to build.
There are frequent ward closures due to staff shortages and increased reliance on agency staff, brought about mainly by the cost of these PFI arrangements.
PFI contracts and other privatisation schemes rip off the public sector and are a license to print money for private companies. But construction companies recently formed a cartel to squeeze even more profits from the public purse. The Office of Fair Trading accused 112 construction companies - including Balfour Beatty and Carillion, of colluding in price-fixing contracts with local authorities, NHS trusts, etc.
The bidders conferred over a price for the contract. Whoever was awarded it would then make a payment to those companies that lost out.
Any company involved in the cartel can be fined up to 10% of its turnover. However, cooperating with the investigating authorities significantly reduces the penalties for the fat-cat companies into a mere slap on the wrist.
You can't trust this toothless 'regulation'. PFI and other privatisation measures are threatening our NHS in the cause of private profit, including forcing hospitals to cut services.
End PFI contracts
OBVIOUS IMMEDIATE solutions to problems such as deficits in the NHS Trusts, would be to end the PFI contracts or to take the PFI companies into public ownership and use the money saved to keep all the services open. If failing businesses like Northern Rock can be nationalised, why can't the PFI giants?
Of course, none of the establishment parties would put forward such ideas. These parties support the 'free market' system which puts profits for the super-rich way ahead of our services.
On 1 May, local elections will give voters in some areas a chance to support a socialist alternative to the establishment parties and their shameful policies. But if we want 2008 not just to be the NHS's birthday bash but to start a new lease of life for one of our most prized services, the health unions must lead the way in calling for:
Write off the NHS debt.
No to cuts or ward closures.
No to privatisation.
People before profit.
Why not click here to join the Socialist Party, or click here to donate to the Socialist Party.
---
In The Socialist 30 April 2008:

Public sector strike shows fightback has begun!

A week of strikes shakes government

Grangemouth oil refinery strike

Reports of the 24 April strikes
---
Socialist Party campaigns

Stop PFI pirates wrecking our NHS

Saving our post offices!
---
Socialist Party election campaigns

Socialist councillors back teachers

"Why I am standing against Labour"
---
Socialist Students

Students stage occupation
---
Anti-racism

Love Music Hate Racism

German anti-fascist demo
---
International socialist news and analysis

Bolivia - right-wing coup threat
---
Socialist Party workplace news

Lincoln rejects insulting pay offer

Defend Eddie Fleming

Unison witch-hunt

Corus Trostre, further job losses
---
Home | The Socialist 30 April 2008 | Join the Socialist Party
---