Link to this page: https://www.socialistparty.org.uk/issue/533/4090
From The Socialist newspaper, 14 May 2008
NHS under threat
Urgent union action needed
JUST WEEKS before the 60th anniversary of the National Health Service, government plans to reorganise and privatise it could mean the end of a health service that is publicly owned and free at the point of use.
Lois Austin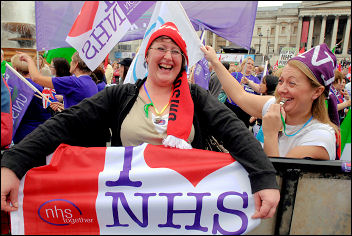 Lord Darzi did not listen to protestors on the 'Save the NHS' march, 3 November 2007. Photo Paul Mattsson
Now the local elections are out of the way, Lord Darzi, the surgeon appointed by the government to carry through the latest changes, has received the go-ahead to further dismantle the NHS. Health workers are shocked by the news that there is a 'Darzi plan' for every region, not just London.
Darzi tells us: "Patients will be involved in decisions and hospital units would not close before new ones opened". This is untrue. So-called consultations, held in shopping centres and town halls around the country, have been a sham - held mostly during the day when people are in work and with misleading questions devised to get the 'right' answers. And the emergency clinic at the Maudsley in south London was closed with no adequate alternative arrangements put in its place.
Darzi also tells us: "In none of these documents does it say we will be closing A&E departments or maternity services". But that's only because they are doing it or have done it already.
He may want to make his proposals more palatable reading for clinicians he is trying to win over, but Darzi's purpose is to centralise services into 'super-hospitals' and specialist centres. That means local hospitals and units will close, leaving patients and their families travelling miles to access care.
These plans to 'reorganise' the NHS are about saving money and privatisation. Polyclinics, which will merge GP surgeries with other services currently carried out at local hospitals and clinics, will be owned and run by the private sector. Private companies like Virgin are already trying to get their greedy hands on the contracts.
It's laughable for Darzi to say that if a local community doesn't want change it won't happen. Plans for south-east London include closing the maternity unit and paediatrics at Queen Mary's in Sidcup or similar cuts at other local hospitals.
Local people are up in arms, don't want it and have marched in their thousands to stop it. Who is listening to them? Certainly not Lord Darzi!
Unfortunately, though, one organisation is listening and that's Bexley Conservatives. They have led the campaign to save St Mary's, which led to Bexley and Bromley constituency having the second highest voter turnout for the London elections and a huge vote for Boris Johnson.
Yet the Tories' health agenda, like New Labour's, is cuts and privatisation. More of these fair-weather Tory 'friends' of the NHS could be elected on the back of NHS campaigns unless the trade unions urgently start fighting the cuts, alongside local users.
The health trade unions have plenty of reasons to fight, including against an insulting below-inflation pay award and to stop cuts to staff numbers.
Darzi tells us his plans will be better for patients with long-term conditions like asthma and diabetes. Someone needs to tell him that making redundant 8,000 specialist nurses, working in this important area, or downgrading the posts of thousands of others, (cuts which are currently being threatened), is not the way to do it!
We need to mark the NHS' 60th anniversary with a renewed struggle to save it, led by the trade unions. Don't let the Tories hijack 'Save our hospital' campaigns. Let's stop Darzi in his tracks.
Why not click here to join the Socialist Party, or click here to donate to the Socialist Party.
---
In The Socialist 14 May 2008:

NHS under threat
---
Unison witch-hunt

Unison witch-hunt: Rory Bremner and Mark Thomas speak out

Anti-racists protest at Unison witch hunt

Unison witch-hunt: Defend the four lobby of hearing
---
International socialist news and analysis

Burma cyclone disaster: Wealth and privilege put before aid

60 year anniversary of Israel: Can there be a resolution of the Palestinian/Israeli conflict?

Scottish National Party: One year in power - but little for workers to celebrate

Global capitalist crisis: Confidence in a socialist future
---
Socialist Party women

Defend and extend abortion rights

Ladyfest: culture, politics and women
---
Socialist Party news and analysis

What will Boris Johnson mean for London?

Campaign for a new workers' party: conference 2008

Price rises hit workers

Don't evict Ricky Jones!

The BNP have no solutions...and no clue!

Sussex students uphold 'no platform'

Students 'study-in' in Manchester

Opposing cutbacks in Lincolnshire

Why Labour lost Bury
---
Socialist Party workplace news and analysis

Left wins in PCS executive elections

North west shop stewards

Saturday 28 June 11.30am-4.30pm

Wales TUC: Right wing attack on democracy

Socialist fighter honoured by lecturers' union
---
Socialist Party review

Review: 'Marx in London' by Asa Briggs and John Callow
---
Home | The Socialist 14 May 2008 | Join the Socialist Party
---