Link to this page: https://www.socialistparty.org.uk/issue/533/4114
From The Socialist newspaper, 14 May 2008
Socialist fighter honoured by lecturers' union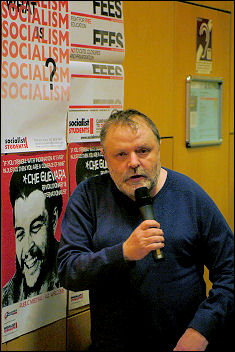 Andrew Price at Socialist Party congress 2008, photo Paul Mattsson
Socialist Party member Andrew Price is retiring from work next February, so he is standing down from his position as the UCU national executive member for Welsh Further Education.
The UCU executive have voted to confer life membership of the union on Andrew, in recognition of his many years of involvement in the union and one of its predecessors, NATFHE.
He has been a branch officer of NATFHE/UCU for more than 25 years and he served on the executive of the two unions for 13 years, twice defeating right-wing candidates.
For the past five years he has been a lay negotiator for Welsh FE pay and conditions, being one of the leaders of the recent strike against the employer's attempts to break the national agreement on pay.
Andrew told The Socialist: "Coming in the same week as the 40th anniversary of my membership of the Socialist Party, I am delighted that the brothers and sisters of my trade union have conferred this honour on me.
"But this is not the main prize. That came on 16 April this year when members walking out on strike and joining picket lines reached an all time high in Wales, with over 250 strikers demonstrating outside the Welsh Assembly."
Why not click here to join the Socialist Party, or click here to donate to the Socialist Party.
---
In The Socialist 14 May 2008:

NHS under threat
---
Unison witch-hunt

Unison witch-hunt: Rory Bremner and Mark Thomas speak out

Anti-racists protest at Unison witch hunt

Unison witch-hunt: Defend the four lobby of hearing
---
International socialist news and analysis

Burma cyclone disaster: Wealth and privilege put before aid

60 year anniversary of Israel: Can there be a resolution of the Palestinian/Israeli conflict?

Scottish National Party: One year in power - but little for workers to celebrate

Global capitalist crisis: Confidence in a socialist future
---
Socialist Party women

Defend and extend abortion rights

Ladyfest: culture, politics and women
---
Socialist Party news and analysis

What will Boris Johnson mean for London?

Campaign for a new workers' party: conference 2008

Price rises hit workers

Don't evict Ricky Jones!

The BNP have no solutions...and no clue!

Sussex students uphold 'no platform'

Students 'study-in' in Manchester

Opposing cutbacks in Lincolnshire

Why Labour lost Bury
---
Socialist Party workplace news and analysis

Left wins in PCS executive elections

North west shop stewards

Saturday 28 June 11.30am-4.30pm

Wales TUC: Right wing attack on democracy

Socialist fighter honoured by lecturers' union
---
Socialist Party review

Review: 'Marx in London' by Asa Briggs and John Callow
---
Home | The Socialist 14 May 2008 | Join the Socialist Party
---