Link to this page: https://www.socialistparty.org.uk/issue/420/4908
From The Socialist newspaper, 15 December 2005
NHS in crisis
Build a national fightback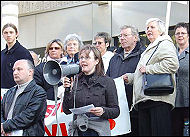 ANOTHER WEEK goes by and another set of revelations about the financial crisis in the NHS.
This time The Observer quotes a leaked email from the Department of Health telling officials to ignore ministers' promises on spending.
And it threatens staff with disciplinary action if they don't freeze new investment.
This latest edict may mean the end of important public health measures like a national programme for bowel cancer screening.
Health trusts all over the country are trying to balance their books by cutting or closing down facilities altogether.
So-called 'routine' operations are being cancelled, leaving patients in pain.
Government targets and funding through 'payment by results' have thrown trusts into crisis.
"It's like being in the middle of a big experiment, and no one seems to know whether our trust will do well or badly. We're caught up in the middle of it all," commented one senior hospital doctor.
But the real crisis is of the government's own making. New Labour have never allocated enough resources to make up for the years of cutting and neglect the NHS had to endure under the Tories.
And the headlong rush to privatise everything is rapidly ruining what is left.
There is an urgent need to build a national campaign to defend and rebuild the NHS.
As a first step, this should include holding a national demonstration linking trade union and community campaigns, as a way of building for national industrial action.

NHS in Crisis: Huddersfield's big demo
Why not click here to join the Socialist Party, or click here to donate to the Socialist Party.
---
In The Socialist 15 December 2005:

NHS in crisis

Huddersfield's big demo

Campaign for a new workers' party

Building a voice for Iraq's workers

Montreal conference - Little change on climate change

Ukraine's Orange revolution - one year on

Portuguese workers strike against Blairite cuts

Massive support for Irish Ferries' workers

Stop the job cuts

Confusion over pensions at NATFHE executive

Media giants attack journalists

Rail workers fight bosses' offensive
---
Home | The Socialist 15 December 2005 | Join the Socialist Party
---