Link to this page: https://www.socialistparty.org.uk/issue/440/5206
From The Socialist newspaper, 18 May 2006
Blair's market madness wrecking the NHS
Join the fightback now!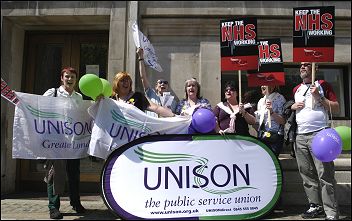 Nurses on the RCN-organised lobby of parliament on 11 May
BECAUSE OF New Labour's attacks on the NHS, hospital Trusts are threatening to sack health workers, cut beds and close down wards. Around 13,000 jobs have already been placed at risk, including 1,000 at the NHS Direct helpline. The government is trying to push the problems their crazy market system has caused onto the shoulders of health workers and the sick and elderly.
Jon Dale, Bolsover Socialist Party
One example is the deprived areas of Langwith, Creswell and Normanton in Derby, which are guinea pigs in Labour's plan to privatise primary health care - services run from GP surgeries and health centres. One of the world's largest health corporations, US-based United Health Group, has been awarded the contract to provide these services.
It doesn't have a scrap of experience of primary care in Britain, let alone in areas with widespread poverty and chronic ill-health. It has no staff, no local knowledge, no local support.
Yet they beat off 17 other bidders and well-respected local GPs weren't even short-listed. Blair's former health adviser, Simon Stevens, is president of United Health's European subsidiary. As one local resident said at a recent meeting: "It stinks!"
The $16 billion corporation has little interest in Langwith and probably won't make much money there. For them the big prize is a head start in bidding for control of the budgets of Primary Care Trusts, that pay for hospital treatments.
These are worth hundreds of millions of pounds in every county and city. If United Health get their claws in that, they could direct spending to treatment centres they own and away from NHS hospitals. They could cut expensive care for the chronically sick, concentrating on simple and potentially profitable treatments like elective surgery and patients will get treatment based not on their needs, but on shareholders' interests.
Keep Our NHS Public
130 angry people were at the Keep Our NHS Public meeting in Langwith where speaker John Lister welcomed health campaigner and Socialist Party member Jackie Grunsell's victory in the Huddersfield council election. Along with victories for health campaigners in Kidderminster, he said: "When people get a choice they're voting strongly for candidates that support the NHS."
In a passionate defence of the NHS founding principles, that treatment should be available to all no matter where they lived or how much money they had, local GP Dr. Elizabeth Barrett, said, "To dismember the NHS limb by limb is an act of social vandalism."
Socialist Party member Brian Loader reported that the health service supplier NHS Logistics was being handed over to a private consortium - DHL/Novation. Workers were being balloted for industrial action. A national NHS demonstration would unite all the different campaigns up and down the country and give NHS workers confidence to fight this privatisation.
Derek Lambley, who organised a local Anti-Poll Tax Union 16 years ago, said: "We filled coaches and took people down to London and beat Thatcher. We should do it again now to save the NHS."
NEARLY 80% of people in Britain don't trust Blair and New Labour to safeguard the NHS. Only 22% think the service will get better over the next few years, while 45% believe it will get worse, according to a recent Deloitte opinion poll.
Why not click here to join the Socialist Party, or click here to donate to the Socialist Party.
---
In The Socialist 18 May 2006:
---
Socialist Party NHS campaign

Blair's market madness wrecking the NHS

Save jobs and services
---
Global Warming

Environment: not safe in their hands
---
Campaign for a New Workers Party

Join the Campaign for a New Workers' Party
---
International socialist news and analysis

The Venezuelan president's 'vision of socialism'

Building on our election successes

Solidarity with Venezuelan workers

Female factory workers in Russia start hunger strike

Ailing German capitalism slashes workers' wages and conditions

Germany: WASG rebels suspended

Massive European Social Forum rally in Athens
---
Socialist Students

How students and staff saved Chemistry at Sussex
---
Pensions

Pensions 'crisis' - working class will pay the price

Rail unions battle over pensions
---
Socialist Party workplace news and analysis

Postal workers prepare for action

Privatisation fails workers and customers

Fighting strategy needed to save jobs

Northumbria lecturers forced to strike

Lecturers continue the fight for decent pay

A matter of life and death
---
Home | The Socialist 18 May 2006 | Join the Socialist Party
---