Link to this page: https://www.socialistparty.org.uk/issue/445/5286
From The Socialist newspaper, 22 June 2006
Fight Low Pay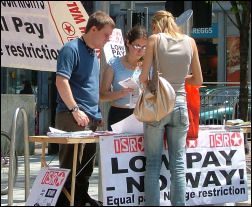 SUMMER HOLIDAYS at last... but you're broke.
ISR campaigning against low pay in Cardiff
So the first task when you recover from exams is spending days traipsing around, facing rejection, looking for a boring job where you get paid peanuts.
Sarah Sachs-Eldridge, International Socialist Resistance (ISR)
But why is it like this? Tescos don't seem to be doing too badly.
Over £2 billion in profit last year! Yet conditions for the workers don't seem so great. No sick pay, low wages, long, tiring shifts. And Tescos aren't the only place to treat us like that - ever worked in MacDonalds, Burger King, Somerfields, any hotel or restaurant...?
Job agencies often seem like the only way to get a job. They say they are there to provide a service - but it's mainly a service to themselves because for every hour we work they make money. Often there's no decent training, less rights than permanent work and little chance of getting a permanent secure job. MacJobs - they're loving it!
How come the minimum wage, which is a poverty wage, is lower if you're under 21? 18-21 year olds are entitled to £4.25, 16 and 17 year-olds get £3 and there is no minimum if you are under 16!
ISR members want to do something about this. We are launching a campaign against the lower rates of pay for young people. We demand equal pay for equal work but we also want the minimum wage to be raised to a level you can survive on.
And we've had enough of the money-grabbing job agencies. They double our exploitation. We want a publicly funded job and benefit service.
The bosses have been forced to raise wages and improve conditions in the past, by workers organised into trade unions. Pensions, sick pay, maternity leave, job security etc are all under attack now but they were originally won by the trade unions fighting for a share of the profit created through their work. These lessons are still relevant for today.
Equal pay for equal work.
For an immediate minimum wage of £6.50 an hour as a step towards a living wage for all, no exemptions.
No to money-grabbing job agencies.
---
>
We are calling a national day of action over the weekend of 15 and 16 July.
Get in touch to discuss plans in your area. Ring: 020 8558 7947.
email: anticapitalism@hotmail.co.uk.

PO Box 858, London E11 1YG.
---
>
Campaigning in Cardiff
CARDIFF ISR hit the streets on 17 June to show young workers their rights and to shame low-pay employers.
Glyn Matthews, Cardiff Socialist Party
As soon as we had set up our stall with petitions, union application forms and ISR Know Your Rights cards we attracted attention. But things really began to get going when we lowered our banner from a nearby roof (above).
We made an impact on passers-by when they found that a sports shop only pay 16 year-olds £3 an hour. They were even more shocked to find out that this was perfectly legal!
People were disgusted to find out that some companies avoid paying over 21s the minimum wage, by paying a 'trainee wage'.
We then hit the shops, speaking to young workers about the poverty pay and exploitative working conditions they face. We informed them of their rights and how to join a trade union.
The day was a huge success for ISR in Cardiff. We have already planned to do it again but on a bigger scale.
Why not click here to join the Socialist Party, or click here to donate to the Socialist Party.
---
In The Socialist 22 June 2006:
---
Socialist Party NHS campaign

NHS cuts... closures... privatisation... We're fighting back!

Fight the cuts in community services
---
Socialist Party youth and students

Fight Low Pay

Socialist Students receive standing ovation
---
Socialist Party feature

US 'empire' in crisis
---
Socialist Party campaigns

Community protests at trigger-happy policing

Arise...Sir tax-avoider!

Labour defeated over schools and pool...

Battle of the Thatcherites!

Football: A high price for the beautiful game
---
Socialist Party review

1926 General Strike: workers taste power

Secuestro Express
---
Socialist Party LGBT

Putting the politics into Pride
---
International socialist news and analysis

Socialists oppose the war in Sri Lanka

Soweto uprising 1976: The powder keg ignites
---
Socialist Party workplace news

Brown attacks public sector workers

Anger at inept handling of pensions dispute
---
Home | The Socialist 22 June 2006 | Join the Socialist Party
---