Link to this page: https://www.socialistparty.org.uk/issue/457/5480
From The Socialist newspaper, 5 October 2006
Our NHS not for sale!
Build for the demo and lobby on 1 November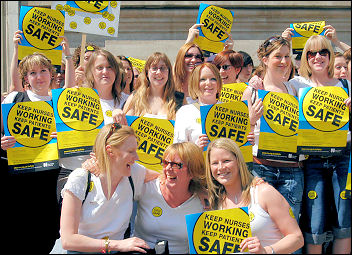 RCN and Unison members protesting outside parliament
HEALTH CUTS are happening all over the country. According to NHS chief executive David Nicholson, they "will not hurt". But they are hurting. Campaigners outside Guys and St Thomas's, the prestigious London teaching hospital, met angry staff who told them that the staff dentistry department had been closed just this Friday.
Lois Austin
Throughout the NHS it's the same story - secret ward and bed closures that the patients and community are not supposed to know about. These are cuts that not only hurt now but will mean a much worse health service in the long term.
What's behind these cuts and closures? The relentless drive towards the market. Market 'reforms' like 'payment by results' and 'choose and book' mean changes to the way that hospitals and Primary Care Trusts are funded. They will mean that hospital trusts not in deficit at the moment will be in the red by the end of the year.
New Labour want a 'leaner, fitter' NHS for the private healthcare companies circling, ready to take over profitable services.
But the campaign to resist the hammer blows of cuts and privatisation is gathering support. 140 medical secretaries and personal assistants working in the Barking and Havering and Redbridge hospital trust will strike on 5 October against the outsourcing of their work, leading to 90-plus redundancies.
Last Saturday, demonstrations took place in Banbury, Pontefract and Epsom. A national focus for these campaigns is beginning to coalesce around the TUC lobby of parliament on 1 November.
A feeder march, to demonstrate our anger and determination to fight back, will march from the Southbank, across Westminster bridge, to join the lobby of Parliament.
A growing number of local organisations and leading anti-cuts campaigners are sponsoring this march.
Leicester, Bristol and Brighton Keep Our NHS Public (KONHSP) are now sponsoring it, along with the Coventry NHS SOS campaign. A number of trade union health branches have also sponsored the march and booked transport.
Let's build a mass turnout on 1 November. Our NHS is not for sale!
New sponsors for the march: Brighton KONHSP, Coventry NHS SOS, Leicester KONHSP, Waltham Forest KONHSP, Bristol KONHSP, Jon Smith, GMB branch secretary at Sheffield's Children's Hospital, Dave Gorton, branch co-ordinater Derbyshire County UNISON, Tees and North East Yorkshire UNISON health branch, Greater London Pensioners' Association
Coming demonstrations include: Southampton, Huntingdon and Huddersfield (7 October) and Oxford (14 October).
Why not click here to join the Socialist Party, or click here to donate to the Socialist Party.
---
In The Socialist 5 October 2006:
---
Socialist Party NHS campaign

Our NHS not for sale!

Marching to stop cuts and sell-offs

Action is the only answer to NHS cuts

Fighting the privateers

Health workers told - no money for study

"Our campaign saved our maternity hospital"

Socialist Party fights for:
---
Socialist Students

Fight for a socialist alternative to Blair's Britain

Students seek out socialist ideas

Age discrimination and the minimum wage
---
Socialist Party campaigns

Blair more hated than Thatcher

Come to Socialism 2006!

Bush's 'war on terror' fuels terrorism!

MoD hypocrisy on Taliban

BIG OIL

Joe Higgins' speech "tore Taoiseach [PM] apart"

Tommy Sheridan - Murdoch's new offensive

Hamas clashes with striking workers
---
Home | The Socialist 5 October 2006 | Join the Socialist Party
---