Link to this page: https://www.socialistparty.org.uk/issue/457/5483
From The Socialist newspaper, 5 October 2006
NHS Logistics:
Fighting the privateers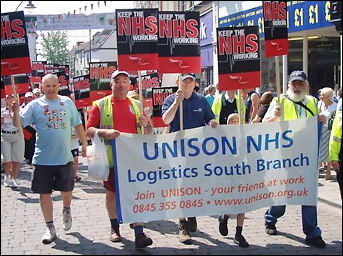 ON 26 and 27 SEPTEMBER, UNISON members working for NHS Logistics (NHSL) were on strike again. We are fighting the government's hiving off of our vital, award-winning stores and distribution service to DHL/Novation.
Brian Loader, UNISON NHSL Alfreton, personal capacity
Senior Management at Runcorn had a big shock at 11pm on Tuesday night, when 100 well-wishers, including UNISON general secretary Dave Prentis, turned up at the picket line from the Labour Party Conference. They joined a solid show of strength from Runcorn NHSL UNISON members.
In Normanton, Chris Kowalcyck the branch secretary, reported 98% of UNISON members supported the action. "We are sending a message to DHL to say, we know what sort of company you are, don't come to us three weeks down the line threatening our terms and condition, because we will stand up and fight."
At Alfreton we had a solid picket line, starting at 10pm. It continued until the following morning when a dozen of us went to Manchester to lobby the Labour Party conference. We left a visible and determined picket line at Alfreton, who turned away four vehicles.
We were outside the conference, with members from the Runcorn depot and a BBC crew, when health secretary Patricia Hewitt came walking down the road.
She couldn't walk past us with the BBC there so she had to stop. We tackled her about the privatisation of NHSL.
She said health minister Andy Burnham had replied to a letter from Dave Prentis. He had demanded assurances about our pensions, pay and terms and conditions as well as for new workers. But we didn't get any assurances from Hewitt.
We asked why an in-house bid wasn't allowed to flourish. We also made it clear we were worried about US company Novation being involved in the contract, because they are being investigated by the federal government at the moment.
She replied that although the market-testing process had taken two years and gone through five health ministers, the money which DHL claimed they could save was too good to refuse.
We asked why the depots were only guaranteed to stay open for five years, yet DHL/Novation's contract was for 10 years. But she wouldn't agree to extend the guarantee.
I asked about the savings DHL say they will make over 10 years and the £35 million the Department of Health (DOH) will get from the sale of the NHSL depots. Would this cash be going to front-line services, hospitals threatened with closure and where nursing staff are being made redundant?
Of course not. She said the DOH would be using it for capital expenditure. But we know this will mean PFI-type schemes where big business will be the main beneficiary.
We continued to leaflet the conference. But some delegates reported that the security personnel were trying to confiscate our leaflets on the basis that they hadn't been passed by the conference arrangements committee! They were further infuriated when they got back to their seats and found leaflets from Labour's national executive saying don't vote for the trade union resolution criticising Labour's health service policies.
NHSL UNISON striking members would like to thank all the UNISON branches/members who have supported our campaign and made donations from their branch funds to the national hardship fund.
For many of us, it will be an experience not to be forgotten in organising and participating in the first national NHS strike for 18 years. It is clear many other NHS workers are considering and planning similar action to fight back against NHS cuts and job losses. This needs to be co-ordinated nationally.
NHSL UNISON members across all the depots will agree with the comments from the Normanton strikers in sending a strong message to DHL/Novation who now operate the contract. Any job losses and threats to our terms and conditions will result in a call for industrial action from the depots.
Why not click here to join the Socialist Party, or click here to donate to the Socialist Party.
---
In The Socialist 5 October 2006:
---
Socialist Party NHS campaign

Our NHS not for sale!

Marching to stop cuts and sell-offs

Action is the only answer to NHS cuts

Fighting the privateers

Health workers told - no money for study

"Our campaign saved our maternity hospital"

Socialist Party fights for:
---
Socialist Students

Fight for a socialist alternative to Blair's Britain

Students seek out socialist ideas

Age discrimination and the minimum wage
---
Socialist Party campaigns

Blair more hated than Thatcher

Come to Socialism 2006!

Bush's 'war on terror' fuels terrorism!

MoD hypocrisy on Taliban

BIG OIL

Joe Higgins' speech "tore Taoiseach [PM] apart"

Tommy Sheridan - Murdoch's new offensive

Hamas clashes with striking workers
---
Home | The Socialist 5 October 2006 | Join the Socialist Party
---