Link to this page: https://www.socialistparty.org.uk/issue/345/5740
From The Socialist newspaper, 1 May 2004
Bring the troops home now
Iraq: End The Bloodshed
The Iraqi people must be free to decide their future
PRESIDENT BUSH and the US Pentagon want to sanitise their war and occupation of Iraq.
Roger Shrives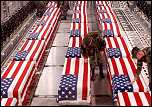 Banned in the United States: Photo of rows of coffins of US soldiers.
They made an order that no more photographs should be released of flag-draped coffins of US soldiers being brought home from Iraq. (See photo right)
As the violence escalates ever higher, well over 100 US troops have been killed in Iraq during April together with far more than 1,000 Iraqi deaths.
1,000 Iraqi deaths
Bush and Co are scared of the return of the 'Vietnam syndrome'. They can remember the upsurge in US domestic opposition to military adventures in the 1960s when the body bags started coming home from the Vietnam war.
Already opinion polls tell Bush that 44% of America's people want the troops to return home immediately - and return alive. Many more weeks such as the last and all the censorship in the world won't be able to save Bush and Blair's plans.
Just in this week, a roadside bomb hit a bus south of Baghdad, killing at least 13 Iraqis; a mortar barrage struck a crowded market in a Shiite area of the capital, killing at least seven; suicide car bombings in the southern Iraqi city of Basra killed 74 people and towns like Falluja and Najaf have seen almost daily battles.
Waterborne suicide attacks on Iraq's southern oil terminals, which handle 90% of Iraq's oil exports, killed three US sailors and caused panic on world markets.
Panic measure
At this delicate juncture Tony Blair says he may send more troops to Iraq. This panic measure is to make up for countries like Spain which are withdrawing forces after a mass popular movement against terrorism and war.
The war and occupation are making the international situation more dangerous. Bush has backed Israeli leader Ariel Sharon as one of the few world leaders who follows his political hard line and Tony Blair has trotted obediently behind.
We say no more blood should be shed to save the face of warmongers Bush and Blair. The troops should be brought home now and the Iraqi people allowed to decide their own future democratically - free from occupying forces.
It's time to say no to the politics which create a world of war and terror. It's time also to fight the exploitative system of capitalism which breeds this deadly politics. That means fighting for a socialist alternative that could use the wealth of the world for the good of the vast majority not the profits of big business or the battle plans of imperialist presidents.
---
>
Torture
The US military tortures Iraqi prisoners and appoints Saddam Hussein's General in Fallujah - have things really improved for the people of Iraq since the fall of Saddam?
Two thirds of residents of Baghdad think not, according to a New York Times/CBS News poll, conducted before the attacks on Fallujah and Najaf
Why not click here to join the Socialist Party, or click here to donate to the Socialist Party.
---
In The Socialist 1 May 2004:

Iraq: End The Bloodshed

Iraq: Bush's Bloody 'Ambassador'
---
Socialism

Socialism 2004

Building A Socialist International

2004 May Day Greetings
---
Socialist Party campaigns

ID Cards - Working Class People Will Pay The Price

Anger As Unison Leadership Backs Down
---
International socialist news and analysis

Shell - Profiting From Misery

South Africa 10 Years On
---
Home | The Socialist 1 May 2004 | Join the Socialist Party
---