Striking To Save Jobs And Services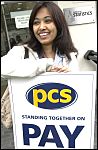 ALMOST 300,000 civil service workers in the PCS union are taking strike
action on 5 November against the government's attacks on their jobs, pensions
and sick pay.
The strike involves government workers across the board – from the local
JobCentre and benefit offices and those who ensure that pensioners are able to
collect their pensions on time, to the countryside agency, the serious fraud
office, the DVLA, the Royal Mint, and many, many more.
It will be a graphic lesson to New Labour and their big business friends
that it is ordinary workers who keep things moving and maintain services for
millions of people, not government ministers or £150,000 a year 'Sir
Humphreys'.
Marion Lloyd, PCS national executive member told the socialist:
"We are on strike because New Labour want to slash 104,000 jobs, cut our
pension rights and reduce sickness entitlements for those of us that are left.
"This day of action gives us an opportunity to demonstrate to the
government that we're not prepared to see them attack our members' jobs,
pensions and terms and conditions. We're not prepared to sit back and see them
decimate the public services which this country relies upon so much."
New Labour's attacks on the civil servants are a challenge to all public
sector workers. If they get away with their plans, who will be next? But civil
servants have shown that they are prepared to fight back. Their fight is our
fight.
Support the 5 November civil service strike
For a one-day public sector strike to defend jobs, pensions and services