Link to this page: https://www.socialistparty.org.uk/issue/540/6223
From The Socialist newspaper, 2 July 2008
Hands off our NHS!
On its 60th anniversary, we call for a mass campaign to defend our health service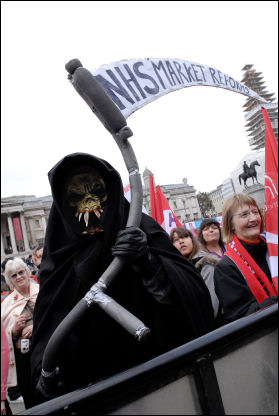 On the 'Save the NHS' march, 3 November 2007 , photo Paul Mattsson
End big business profiteering out of the NHS! Abandon the Private Finance Initiative (PFI). No to private polyclinics replacing local GP surgeries.
Place all health services and buildings under public ownership. For a well-funded service, free at the point of use, to provide for everyone's health needs.
Abolish the business competition of 'internal market', trusts, and 'payment by results'.
End NHS job losses and low pay. Give health workers an above-inflation pay increase.
Nationalise the pharmaceutical and medical supply industries, and all private health providers, with compensation paid only on the basis of proven need. Bring them under working-class control and management.
For a socialist programme to end poverty and inequality - the biggest killers and causes of ill health.
Why not click here to join the Socialist Party, or click here to donate to the Socialist Party.
---
In The Socialist 2 July 2008:

Hands off our NHS!

Feature: 60 years of the NHS
---
Socialist Party campaigns

Local government strike action: Workers say: 'enough is enough!'

Fight Labour's welfare privatisation

91% of pay deals are below inflation

Workers united against pay freeze
---
Socialist Party news and analysis

Education - class segregation grows

Boris Johnson reveals his real policies

Royals down to their last crown?

Union support for demo to stop BNP 'festival'
---
National Shop Stewards Network

National Shop Stewards Network: Rebuilding trade union strength
---
Campaign for a New Workers Party

Campaign for a New Workers' Party
---
Obituary

Obituary: Terry Fields
---
Socialist Party LGBT

LGBT London Pride: No to homophobia
---
International socialist news and analysis

Mugabe clique tightens its grip on Zimbabwe

Big oil returns to Iraq

Poland: Thousands join 'hands off the Labour Code' demo
---
Socialist Party workplace news

PCS shows action gets results

Visteon workers win 5%

For a fighting, democratic Usdaw

Tube cleaners in pay strike

Victory for Belfast Airport shop stewards

East London street cleaners fight privatised employer
---
Home | The Socialist 2 July 2008 | Join the Socialist Party
---