Link to this page: https://www.socialistparty.org.uk/issue/542/6285
From The Socialist newspaper, 16 July 2008
NHS - birthday greetings and warnings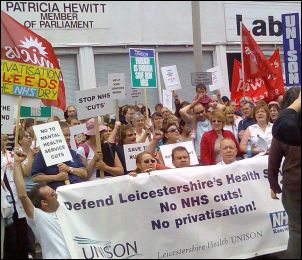 A previous NHS protest in Leicester, photo Leicester Socialist Party
IN SOME towns celebrations for the NHS' 60th birthday were official events, but the day organised by the Keep our NHS Public group in Leicester was a much more grassroots affair.
Sally Ruane, Leicester, Leicestershire and Rutland Keep our NHS Public
A small display in the city centre combined personal testimonies from local patients and NHS workers, a chronology of key NHS events over the decades, extracts from local documents depicting aspects of health care since 1948 and quotations from NHS founder Aneurin Bevan.
The display included pamphlets produced by a local Labour Party as part of a campaign against the Tories' privatisation of the NHS in 1983/84. The irony was not lost on the organisers or many of the public.
The photographs triggered memories for some passers-by. One woman identified a picture of a former isolation hospital where she spent three months as a child. And she and her sister recalled her mother's travails in bringing up eleven children from the 1930s to the 1950s, the youngest of them a 'sickly' child.
They recalled the threepence paid weekly for ambulance cover, the long walk to the neighbouring village for prescriptions, fundraising for the local voluntary hospital and the 'men's health club', held regularly in the local pub.
All speeches at the rally, from health visitors, social care workers, pensioners, the local Trades Union Council, the Socialist Party and Keep our NHS Public acknowledged the NHS' achievements in providing free and universal health care.
But they all gave dire warnings about current government health policy, especially the resources squandered on the extra bureaucracy required in a marketised health system and the threat posed by the encroachment of big business.
No blueprint for action was offered but people agreed that the NHS had been created through the demands and pressures of ordinary people, so its precarious future could be safeguarded only by them.
Why not click here to join the Socialist Party, or click here to donate to the Socialist Party.
---
In The Socialist 16 July 2008:

Global finance crisis deepens

Feature: Price inflation - the sickness of capitalism
---
Global Warming

Change the system! not the climate
---
International socialist news and analysis

Sri Lanka general strike

Military threat to Iran stepped up
---
Socialist Party NHS campaign

NHS - birthday greetings and warnings

Ambulances - calls doubled, no extra staff

Polyclinic courts Branson

Ex-Foley-ated! Union bashing NHS boss resigns as staff defeat pay cuts
---
Socialist Party campaigns

Glasgow East by-election Socialist change needed

Durham Miners' Gala rejects New Labour

One Wales rule for the rich...

Post Office Leeds: Haranguing in the rain

Greenwich: Employers' hypocrisy

Bangor: Bus protest
---
Workplace news and analysis

Visteon takeover: Workers' determination defends conditions

Shop stewards conference: Workers and war

Workplace news: In brief
---
Anti-racism

Notts campaign against the racist BNP grows

Anti-racism stall in Wrexham

No to the BNP's attempt to divide Stoke's communities!

'Dear Boris' - we will NOT be silenced!
---
The Socialist Comment

Government attacks single parents
---
Socialist Party review

Live Working or Die Fighting: How the working class went global
---
Home | The Socialist 16 July 2008 | Join the Socialist Party
---