Link to this page: https://www.socialistparty.org.uk/issue/548/6397
From The Socialist newspaper, 17 September 2008
No to racism: Yes to decent jobs, homes & services!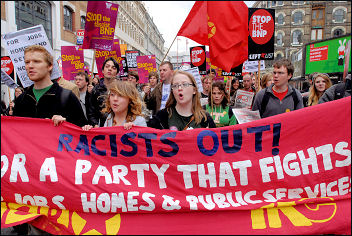 Love Music Hate Racism demonstration 2008, International Socialist Resistance and Youth Against Racism contingent , photo Paul Mattsson
In 2008 more than 25 people have been fatally stabbed and another 14,000 have received hospital treatment for knife wounds. In response, young people in Coventry, London and elsewhere have protested, demanding: "Stop knife violence". They express the views of millions across the country.
Andy Bentley, Stoke Socialist Party
But the British National Party are holding a 'national rally' in Stoke-on-Trent on 20 September, not to campaign against knife crime, but to exploit the tragic death of Keith Brown.
By highlighting the death of just one person, the BNP are trying to sow division among communities across Stoke-on-Trent.
Mr Brown was stabbed to death last year by his Muslim neighbour Habib Khan following a long running dispute. Mr Khan was sentenced to eight years for manslaughter by reason of lack of intent.
But local BNP councillor Michael Coleman, seeing an opportunity to try to whip up racist division, says: "This sentence bears no relationship to any form of justice".
If the BNP were serious about fighting miscarriages of justice why not protest about the 12,000 innocent people who were jailed in 2002, who were subsequently acquitted, as reported by the Prison Reform Trust? The BNP aims to set one section of the community against another so that they can opportunistically pose as defenders of the "whites" in Britain.
For this 'national rally', the BNP plan to bus in 400 of their members from around Britain to deliver thousands of leaflets spreading their message of racist division.
With nine councillors, the BNP are now the second largest group on Stoke-on-Trent city council, but they have done nothing to defend working-class people's jobs and services.
The number of BNP councillors has increased, and our council is worse! 1,000 much needed council jobs disappeared last year, alongside an increase in cuts and privatisation of our services. No 'national rally' to protest about this!
Despite what local BNP members are saying, their rally will not be the biggest seen in Stoke for years. It will be dwarfed by the recent marches of postal workers and NHS workers fighting to save our public services. And despite the prominent media coverage given to the BNP's rally, it will not even be the biggest gathering in the city on 20 September.
This will be at the Jam'it Unity Festival in Hanley Forest Park to promote unity and diversity organised by local young people who reject the BNP's message of racist division.
Stoke Socialist Party is delivering leaflets to homes across the city exposing the aims of the BNP and explaining the vital need to build a new party to represent all working-class people.
Since the BNP announced their rally, more people have joined Stoke Socialist Party and more will join in the weeks ahead to campaign against the BNP and for a decent future for all working class people.
Unite and fight against low pay and cuts in jobs and services.
For community control over policing priorities.
No to war, no to racism, no to terrorism.
End cheap labour - for a minimum wage of £8 an hour with no exemptions.
A massive public spending programme to create more houses, schools and hospitals and all other facilities we need. End privatisation.
Campaign to form a new mass party to represent working-class people.
---
>
Jam'it unity festival
Organised by the Youth Arts Forum
A celebration of diversity and unity by young people from Stoke-on Trent
Saturday 20 September at Hanley
Forest Park 12noon- 6.30pm
Why not click here to join the Socialist Party, or click here to donate to the Socialist Party.
---
In The Socialist 17 September 2008:
---
Credit crunch

It's time to fight back!
---
Socialist Party editorial

Capitalist crisis - Karl Marx was right
---
Anti-racism

No to racism: Yes to decent jobs, homes & services!
---
Socialist Party campaigns

Socialist candidate gains 40% of vote, stuns Usdaw leaders

Conflict in Georgia - independent position needed

Brown's feeble fuel package
---
Labour Party conference protest

Protest at war and occupation

Welcome to the real Manchester

Fighting city needs a fighting party

Panicky MPs turn on Labour
---
Privatisation and closure

No to post office closures

Protesters tackle Metro privatisation
---
Socialist Party feature

Middle East: End imperialist aggression!
---
Socialist Party workplace news

London bus strike: "Showing them our power"

Pickets cheer in West London

Ford workers meet to defend jobs

Journalists win union recognition victory

2008 Trades Union Congress: Pressure from below begins to show

Swansea rail workers fighting for a living wage

fastnews
---
International socialist news and analysis

Interview with Cindy Sheehan: "Some kind of populist uprising needs to happen"

Scotland: Tactical questions for local government pay battle
---
Socialist Party review

'Bob Marley' reviewed by Jason Toynbee
---
Home | The Socialist 17 September 2008 | Join the Socialist Party
---