Link to this page: https://www.socialistparty.org.uk/issue/554/6557
From The Socialist newspaper, 29 October 2008
National civil service strike 10 November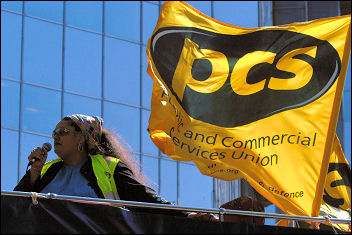 PCS on strike 1 May 2007, photo Paul Mattsson
The Democracy Alliance-led national executive committee of the Public and Commercial Services union (PCS), which includes members of the Socialist Party, has agreed and announced a national one-day strike on 10 November. This is the first stage of a national campaign to apply pressure to secure serious negotiations with the government to resolve the long-running dispute over pay.
John McInally, national vice-president PCS
PCS members are amongst the lowest paid workers in the public sector and being held to below inflation increases means an effective pay cut for this year, and in future years, if the government gets its way.
The industrial action stage of our campaign will begin on 10 November with a national strike, followed by a national overtime ban.
Further industrial action will be considered when the executive reconvenes on 12 November, depending on the position of the employer.
Brown and Co are responsible for the current economic crisis, including the collapse of the banking system. They championed the unfettered free market - yet they now expect workers, particularly those of us in the public sector, to pay for their mess.
Low pay in the civil service is a scandal. Some of our members are earning as little as 13p an hour above the national minimum wage, many members have had no pay rise at all this year and, what is causing real anger, our members face the double disadvantage of progression (moving from the minimum to the maximum of the pay range) being included in the government's pay cap along with cost of living increases. This leaves less money to fund basic pay awards, something that happens nowhere else in the public sector.
PCS members instinctively know that if we do not stand firm in pursuit of our demands then the government will continue to ignore the problems of civil service pay and plunge us further into pay poverty and inequality. 54% of all children in poverty are in working households and the public sector is the biggest employer of low-paid workers.
Increases in line with at least inflation, addressing the issue of progression and a framework for a fair pay system are all achievable and no less than we need and deserve.
While low-paid workers are being told to tighten their belts, countless billions have been found to rescue the banking system. No effort will be spared in building for a tremendous turnout on 10 November.
Members' meetings should be organised in every PCS branch. Campaign materials setting out the union's case for fair pay will be widely distributed.
The union's case for a fair settlement, which is achievable if we continue to campaign with determination and in unity, is unanswerable.
Civil service head Sir Gus O'Donnell (£260,000 pa) wrote to our members during the ballot saying that now is not the time to press for more money because of the economic crisis. Unquestionably many workers will reflect on the economic crisis.
But whatever else has changed, one thing remains the same - pay cuts and double-figure inflation on the staples of life, like food and fuel, means further misery for low-paid workers.
PCS has won concessions on every campaign it has undertaken in recent years, especially so on pensions, job security and preventing attacks on paid sick leave.
Our members understand that campaigning works and action gets results. A settlement in this dispute is achievable and if we stick together and build for effective action we are capable of applying the type of pressure that can secure meaningful talks aimed at securing a fair and reasonable agreement.
Why not click here to join the Socialist Party, or click here to donate to the Socialist Party.
---
In The Socialist 29 October 2008:
---
Credit crunch

Worlds apart... in 'them and us' society

Are we heading for a new Great Depression?

Recession getting deeper - 'real world' suffering
---
Socialism 2008

Time to change the world - come and hear the case for socialism

Socialism 2008 pdf
---
Socialist Party campaigns

Postal workers march for their jobs

Save our neonatal services!

BP - swimming in oil profits
---
Socialist Party workplace news

National civil service strike 10 November

JCB - Why should we accept redundancies and pay cuts?

Unite calls off London bus strike
---
International socialist news and analysis

Israel/Palestine Moving towards a new conflict?

Ireland: Pensioners' revolt - government forced back

Italy: Mass movement to stop education cuts
---
Car industry

Car industry in crisis: A fighting strategy

Saving jobs at Ford
---
Socialist Students

Defeat NUS' undemocratic plans

Newcastle University chancellor is out of touch

Fighting cuts at Northampton Uni
---
Home | The Socialist 29 October 2008 | Join the Socialist Party
---