Link to this page: https://www.socialistparty.org.uk/issue/557/6620
From The Socialist newspaper, 19 November 2008
Stroud post office saved!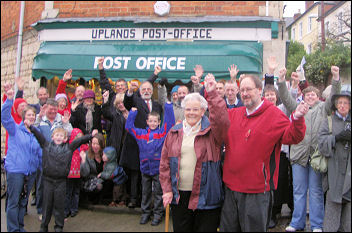 Stroud campaign saves Uplands Post Office, photo Chris Moore
POST OFFICE campaigners in Stroud, Gloucestershire were celebrating the reopening of Uplands post office, despite the best efforts of the government and Post Office Ltd to close it.
Chris Moore, Gloucestershire Save Our Post Offices
A few months ago Uplands was closed along with six other local post offices and 26 in Gloucestershire, as part of the cost cutting exercise to close 2,500 nationally. This was despite Royal Mail, the parent company of Post Office Ltd, making £233 million profit in 2006 and paying its directors £4.5 million in bonuses on top of their £2.5 million salaries. Uplands is only the second post office in the country to win a reprieve, thanks to a heroic local campaign and Stroud town council pumping in £25,000 over the next two years.
A High Court injunction upheld that Mary Davies, a 74-year-old disabled person, would be discriminated against because of the difficulties she would face getting to another post office.
Mary explains: "They call me metal Mickey because of my two artificial knees and plates in my wrists and feet. I've got osteoporosis, asthma, angina, arthritis and brittle bones, I can't even stand let alone walk into town".
Post Office Ltd was forced to enter talks with the town council and sub postmaster, but the process has been tortuous.
As Stroud's independent deputy mayor Andy Reid explained: "Every time we won an argument with Post Office Ltd, the question was changed. People told us closure was a foregone conclusion. But this proves that if you believe in something you must never give in. The value of a post office to a community cannot be calculated on a purely profit-and-loss basis".
Why not click here to join the Socialist Party, or click here to donate to the Socialist Party.
---
In The Socialist 19 November 2008:
---
No Job Cuts

'We're not taking these job cuts'

Programme of action to fight unemployment is needed

JCB: Pay cuts haven't saved our jobs!
---
Post office closures

U-turn over post office card account

Stroud post office saved!

Coventry fights post office closure

Lewisham housing: Arguments against privatisation win

Fast news
---
Socialist Party workplace news

Drop the witch-hunt in Unison fight to Defend trade union democracy

Scotland: Unison local government: Close vote on pay

Dover port workers strike

Unite/Amicus general secretary election

In brief
---
International socialist news and analysis

World food crisis: A systemic failure of capitalism

Democratic republic of Congo: Civil war erupts once again

G20 conference: Summit for nothing

USA: Challenging the two parties of big business

First ever all-Germany school students' strike

Eyewitness report: Italian students occupy
---
Socialist Students

Student democracy under attack

Privatisation = FE college students suffer
---
Interviews

Social workers say: investment needed

Sacked for being pregnant!
---
Home | The Socialist 19 November 2008 | Join the Socialist Party
---