Link to this page: https://www.socialistparty.org.uk/issue/563/6779
From The Socialist newspaper, 21 January 2009
No more bailouts for bosses!
Nationalise the banks under full public control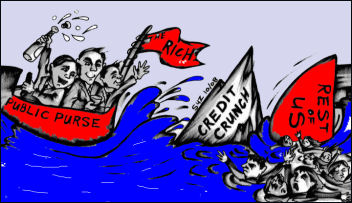 Super-rich bailed out by public purse while the rest of us are sinking, photo Suz squashdonkey.co.uk
BANK BOSSES, whose reckless greed for profit has helped push Britain and the world into the deepest financial and economic crisis since the second world war, are to receive another bailout from Gordon Brown's government. There are no 'rescue packages' for workers facing redundancy but rich, greedy money men are given huge handouts.
Roger Shrives
Britain's banks had an estimated £400 billion funnelled in to them last October; now around £200 billion more of our money will be made available for their bosses as every bank faces colossal difficulties.
Chancellor Alistair Darling says that banks taking this money must increase their lending to consumers and businesses, which has been falling. In return, the government will insure banks against bad debts from risky loans. The government will also temporarily take over some shares. Many bankers and capitalist economists are almost begging for this short-term nationalisation.
Privately owned banks are capitalist institutions, intent on making the biggest profit. For years they enjoyed swollen profits, shareholders got bloated dividends and directors 'earned' incredible bonuses, much of it from what Brown now calls 'irresponsible' lending before the property bubble burst, precipitating this crisis.
During 2008, Royal Bank of Scotland (RBS), lost up to £28 billion, the biggest corporate loss in British history. Its share price is in free fall. RBS blames its problems on 'toxic assets' ie the fruits of gambling on a property market hard hit by debts. The government has already increased its share in RBS from 58% to 70%.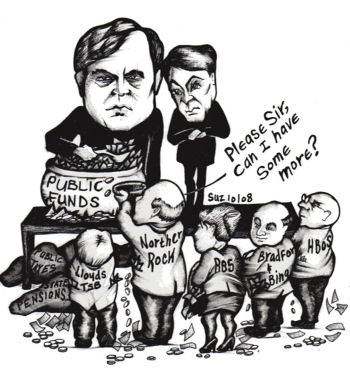 Oliver Twist banks - Please sir, can I have some more?, photo www.squashdonkey.co.uk
Barclays' shares also fell dramatically. It ploughed money heavily into 'investment services', risky casino-type deals that are now losing money. Bank after bank is lifting the veil on dodgy business deals that fuelled a feverish boom but are now doing the very opposite.
The banks mainly used October's loans from the government to hide the financial problems caused by their gambles. Very little was used to give loans to homebuyers or cash-strapped companies.
Darling and Co. say they are 'angry' about this, but will their new loans have any better result this time? And who will pay for these bailout gifts and loans - working-class people or the greedy bank bosses? After the bailout, the government deficit will soar, potentially leading to savage cuts in public services, massive increases in taxation and growing private debt.
Brown and Darling's expensive measures in October did not solve the crisis. The government gave money to privately owned banking multinationals and trusted them to loan it out again, even where this brought them no profit.
Many people will ask: why doesn't the government cut out the big business middle men and women and set up one big publicly owned national bank? That would mean nationalising the entire banking sector. The government may be forced to go some way down this road, but they will only do so as a temporary measure, in order to prop up the capitalist system.
After Northern Rock was nationalised it still cut jobs and wound down its loans. So we don't want fake 'nationalisation' which pumps in our cash to keep a sick bank alive then hands a 'healthier' bank back to the bosses.
Trade unionists need to fight for nationalisation in workers' interests, paying compensation only on the basis of proven need.
That could allow a publicly owned bank to be created that would make cheaper credit available to businesses, people buying homes and consumers. The bank should then remain in genuinely democratic public ownership.
Capitalism's deep crisis threatens disaster for working people. Socialists fight for a better society with full employment and a decent living wage. That also requires nationalisation, under the democratic control and management of the working class, of the top vital industries and of companies threatening to destroy jobs. We need a society based on workers' needs not on the profits of a few firms.
Join the fight for such a society, join the Socialist Party.
Donate to the Socialist Party
Coronavirus crisis - Finance appeal
The coronavirus crisis has laid bare the class character of society in numerous ways. It is making clear to many that it is the working class that keeps society running, not the CEOs of major corporations.
The results of austerity have been graphically demonstrated as public services strain to cope with the crisis.
The government has now ripped up its 'austerity' mantra and turned to policies that not long ago were denounced as socialist. But after the corona crisis, it will try to make the working class pay for it, by trying to claw back what has been given.
The Socialist Party's material is more vital than ever, so we can continue to report from workers who are fighting for better health and safety measures, against layoffs, for adequate staffing levels, etc.
Our 'fighting coronavirus workers' charter', outlines a programme to combat the virus and protect workers' living conditions.
When the health crisis subsides, we must be ready for the stormy events ahead and the need to arm workers' movements with a socialist programme - one which puts the health and needs of humanity before the profits of a few.
Inevitably, during the crisis we have not been able to sell the Socialist and raise funds in the ways we normally would.
We therefore urgently appeal to all our viewers to donate to our special coronavirus appeal.
---
In The Socialist 21 January 2009:

No more bailouts for bosses!

Fast news: My Lords, Ladies and cash dispenser
---
War and occupation

Gaza war paves way for further conflict

Protesting against Gaza attacks

Egypt: Gaza conflict fuels anti-Mubarak opposition

Readers' comment: media reporting on Gaza
---
Socialist Party campaigns

Hands off Royal Mail

Wirral anti-cuts campaign

Save jobs - nationalise JCB

Fighting the cuts in Greenwich

Shop workers need a fighting trade union leadership

Campaigning in Exeter

Hoover workers march in protest at job losses

Amicus election

Glasgow Unison
---
Socialist Party feature

Obama takes power: What change will the Democrats bring?
---
International socialist news and analysis

Refugees and repression in war ravaged Sri Lanka

Exiled Zimbabweans demand Brown acts

Capitalism kills, concludes study of privatisation era

Lawyer assassinated
---
Environment and socialism

Opposing the expansion of Heathrow

Waltham Forest anti-incinerator campaign: Residents get results

Campaigners fight attacks on education and the environment
---
Socialist Students

Students fight academy status
---
Socialist Party review

What's going on? The meanderings of a comic mind in confusion, by Mark Steel
---
Home | The Socialist 21 January 2009 | Join the Socialist Party
---