Link to this page: https://www.socialistparty.org.uk/issue/565/6851
From The Socialist newspaper, 4 February 2009
Lindsey refinery: workers show their strength
Strikes repel attacks on jobs and conditions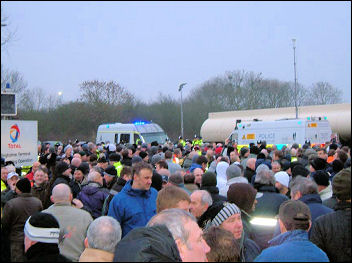 Lindsey refinery: workers show their strength, photo Keith Gibson
Shades of the miners' strike - mass protests, car park meetings, loud hailers that don't work. Not so much flying pickets as flying texts and emails leading to spontaneous unofficial walkouts and 'illegal' strike action. The anti-trade union laws have been brushed aside without a thought.
Alistair Tice, Yorkshire Socialist Party, reporting from the Lindsey refinery strike
Each day brings news of more power plants and construction sites walking out. There's a feeling of: "We must strike while the iron's hot. Enough is enough. If we don't win this we'll be signing on for the rest of our lives."
Out of the frenzy of activity comes improvisation and initiative. National trade union leaders who were secretly holed up in a four-star hotel were tracked down and forced to accept strike committee representation in any negotiations.
So far we can't make direct contact with the Italian workers that have been bussed in and accommodated on a barge in Grimsby dock, rumoured to be a prison ship. They are fenced in by security. The strikers need to reach these workers and leaflets have been produced in Italian.
But an Italian TV station did an interview with strike committee members which will go out in Italy and be seen by the Italian workers on the ship.
There's massive anger against the companies like Total and subcontractors Jacobs and IREM. There's anger against the EU and their directives and court rulings but mostly against Gordon "Thatcher" and "On yer bike" Mandelson.
There's a real sense of betrayal by Labour. The BNP have been bounced off from this site and not been back. Yes, there are one or two union jacks and Brown's promise of "British jobs for British workers" is reflected in some home-made hand bills. But nearly all the strikers will tell you it's not about the foreign workers, it's about the national agreement. It's about jobs, pay and conditions, about trade union strength and stopping this race to the bottom.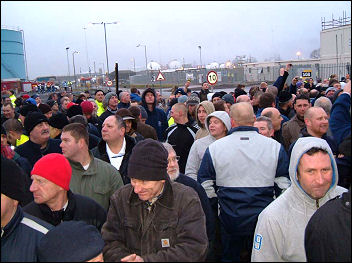 Lindsey refinery: workers show their strength, photo Keith Gibson
The Lindsey oil refinery strike committee issued a call on Monday 2 February to spread the strike into an all-out strike to force the government and employers to concede the demands.
In the first meeting with the strike committee, Total said there would be no negotiations until the strike was called off and the workers returned to work. 48 hours later, on 4 February, they capitulated.
They initially conceded that UK workers could have 60 (40 skilled, 20 unskilled) workers on the IREM contract.
In addition some other concessions were promised. Socialist Party member Keith Gibson recommended rejection of the company's proposals to a mass meeting on behalf of the strike committee. The meeting discussed them for half an hour and overwhelmingly rejected them as not enough.
The company then made an offer which means half the jobs will be filled by UK workers, parity with IREM's own workforce. They have also agreed that all the workers will be paid according to the national agreement. The unions will be able to see the details, so they can ensure that national agreements are being complied with.
No Italian workers will be laid off, only 100 of whom are in Lindsey as yet. All the Italian workers are a core workforce for IREM so will still be employed by them.
So, as The Socialist goes to press, the strikers could be on the verge of a significant victory. The new proposals will be recommended by the strike committee to a mass meeting on 5 February.
But the strike committee know this is only the beginning of the campaign nationally. There's a meeting of the national shop stewards forum on 9 February to plan where to go from here. There's already a big demand for at least a march on parliament.
Socialist Party members and supporters have influenced the strike around a clear set of demands:
No victimisation of workers taking solidarity action.
All workers in UK to be covered by the NAECI agreement.
Union-controlled registering of unemployed and local skilled union members with nominating rights as work becomes available.
Government and employer investment in proper training/apprenticeships for the new generation of construction workers. Fight for a future for young people
All immigrant labour to be unionised.
Trade union assistance for immigrant workers, via interpreters, to give right of access to trade union advice - to promote active integrated trade union members.
Build links with construction trade unions on the continent
Donate to the Socialist Party
Coronavirus crisis - Finance appeal
The coronavirus crisis has laid bare the class character of society in numerous ways. It is making clear to many that it is the working class that keeps society running, not the CEOs of major corporations.
The results of austerity have been graphically demonstrated as public services strain to cope with the crisis.
The government has now ripped up its 'austerity' mantra and turned to policies that not long ago were denounced as socialist. But after the corona crisis, it will try to make the working class pay for it, by trying to claw back what has been given.
The Socialist Party's material is more vital than ever, so we can continue to report from workers who are fighting for better health and safety measures, against layoffs, for adequate staffing levels, etc.
Our 'fighting coronavirus workers' charter', outlines a programme to combat the virus and protect workers' living conditions.
When the health crisis subsides, we must be ready for the stormy events ahead and the need to arm workers' movements with a socialist programme - one which puts the health and needs of humanity before the profits of a few.
Inevitably, during the crisis we have not been able to sell the Socialist and raise funds in the ways we normally would.
We therefore urgently appeal to all our viewers to donate to our special coronavirus appeal.
---
In The Socialist 4 February 2009:
---
Lindsey refinery

Lindsey refinery: workers show their strength

Firm strike leadership gains results

Organising real trade unionism

Response from Italy

Staythorpe power station: "It's all about money"

The diary of a striker

Striking at Fiddlers Ferry
---
Socialist Party youth and students

United action needed to save education

Youth Fight for Jobs campaign

Gaza protests: Police attacks show stewarding vital

May Day: Lords judgement backs police
---
Socialist Party campaigns

Corus steal jobs: Workers must fight back

Weather chaos exposes cutbacks

Car industry bailout plan

Wirral: Stop the cuts and closures

Fast news

Liverpool: Far right BNP exposed
---
International socialist news and analysis

Sri Lanka: Stop the slaughter!

Sri Lanka: Thousands trapped in war zone

France: millions strike against Sarkozy's policies

Economic crisis - cracks appear in the bosses' EU

Iceland: Devastated by global crisis
---
Marxist analysis: history

Lessons of the Jarrow Crusade: no return to the 1930s!
---
Home | The Socialist 4 February 2009 | Join the Socialist Party
---