Link to this page: https://www.socialistparty.org.uk/issue/565/6857
From The Socialist newspaper, 4 February 2009
Striking at Fiddlers Ferry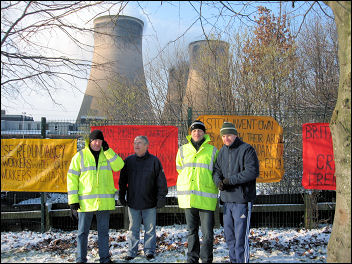 Construction workers picketing Fiddlers Ferry power station, photo Bunke / Ford
The 70 construction workers picketing Fiddlers Ferry power station, Widnes, were clear about the reasons for the action. European directives on 'posted workers' allow sub-contractors to pay below the union and national rates for the job, driving down pay and conditions in the race to the bottom.
They said: "This dispute is not racist. It is to do with big companies ripping up agreements. They sign them and rip them up. Every industry has had its contracts ripped up, and new ones imposed - always to the workers' detriment. The workers have had enough. It has to stop, no more rhetoric. And the union leaders should lead, and lead by example!"
There can be no 'level playing field' while companies pay workers working abroad the (lower) wage rates of their home country. It's not about discriminating against migrant workers, they need to be unionised and on the union rate for the job. Steps the unions have taken in this direction need to go further.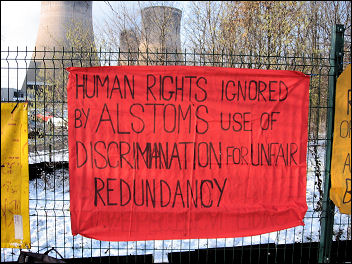 Construction workers picketing Fiddlers Ferry power station, photo Bunke / Ford
The lone BNP-er at the picket was politely but completely ignored by everyone else. Six copies of The Socialist were sold, every picket took our leaflet, and we will continue to support the workers in this and the related disputes arising from the construction companies' onslaught on jobs, pay and conditions.
Christian Bunke and Andy Ford
Why not click here to join the Socialist Party, or click here to donate to the Socialist Party.
---
In The Socialist 4 February 2009:
---
Lindsey refinery

Lindsey refinery: workers show their strength

Firm strike leadership gains results

Organising real trade unionism

Response from Italy

Staythorpe power station: "It's all about money"

The diary of a striker

Striking at Fiddlers Ferry
---
Socialist Party youth and students

United action needed to save education

Youth Fight for Jobs campaign

Gaza protests: Police attacks show stewarding vital

May Day: Lords judgement backs police
---
Socialist Party campaigns

Corus steal jobs: Workers must fight back

Weather chaos exposes cutbacks

Car industry bailout plan

Wirral: Stop the cuts and closures

Fast news

Liverpool: Far right BNP exposed
---
International socialist news and analysis

Sri Lanka: Stop the slaughter!

Sri Lanka: Thousands trapped in war zone

France: millions strike against Sarkozy's policies

Economic crisis - cracks appear in the bosses' EU

Iceland: Devastated by global crisis
---
Marxist analysis: history

Lessons of the Jarrow Crusade: no return to the 1930s!
---
Home | The Socialist 4 February 2009 | Join the Socialist Party
---