Link to this page: https://www.socialistparty.org.uk/issue/566/6890
From The Socialist newspaper, 11 February 2009
Ireland - workers' factory occupation
Nationalise Waterford Crystal!
Waterford Crystal workers occupy and protest at sackings, photo Socialist Party Ireland
SPECIALLY HIRED security individually delivered letters to employees saying that from the following Monday there was no need to report for work, as the world-renowned Waterford Crystal factory would be closed!
Kevin Mcloughlin, Socialist Party Ireland
Shocked but bitterly angry that the receiver had decided to end production, workers at Waterford Crystal made their way to the Visitors Centre. There, more hired security blocked their way, some claiming to have baseball bats.
If they thought such intimidation would crush the workers' anger, they were sorely mistaken. Hundreds of workers brushed the heavies aside. So began the occupation at Waterford Crystal on Friday 30 January.
The workers had no option but to occupy. More than 700 workers are employed at Waterford Crystal, with roughly 500 in the manufacture of glass crystal homeware products. If the receiver was allowed to just close the facility, their entitlements and future would have been dismantled at a stroke.
Directly seven hundred jobs are at stake, indirectly there are many more. Closure would also have meant that the companies that had been circling Waterford Crystal would be able to swoop in, with substantially reduced wages and conditions for whatever workforce they took back.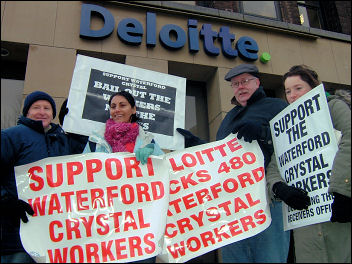 Waterford Crystal workers occupy and protest at sackings, photo Socialist Party Ireland
With ongoing financial problems in the company, a significant number of workers were prepared to take redundancy. In previous packages such long-term workers would have got up to 150,000 in redundancy pay. Now, with bankruptcy, all they would get would be a basic statutory payment. Defence of pensions was also a crucial motivator for the workers' action.
Business failures in Ireland doubled last year. This year is expected to be much worse with some estimates saying more than one-third of all businesses are insolvent. What happened at Waterford Crystal is likely to be visited on many more workers, therefore the struggle in Waterford is extremely important.
In 1986 Waterford bought Wedgwood for 323 million in today's money. But within a few years of coming together their combined value was less than what Waterford had paid for Wedgwood. Debts dating back to that time have been critical in crippling the company.
Waterford Wedgwood employed more than 8,000 people internationally. Its debts amounted to 450 million, roughly half the value of yearly sales. At the start of this year, Bank of America appointed a receiver to some of the sites, most notably the plant in Waterford and the Wedgwood factory in Stoke-on-Trent but other parts of the company, employing 5,000, are still operating.
The workers at Waterford and Stoke-on-Trent are paying the price for the financial instability, economic crisis and gross mismanagement.
Private buyer?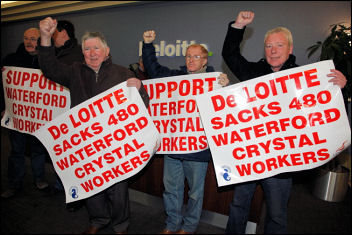 Waterford Crystal workers occupy and protest at sackings, photo Socialist Party Ireland
When you go to the Visitors' Centre, to the right of the entrance a Unite banner reads: "Nationalise Waterford Crystal". When you go inside the workers' controlled plant, you see that everything is very orderly, the workers welcome all support warmly and you are besieged to take tea, coffee, sandwiches or even some ice cream.
You get a glimpse of the profound capabilities and power of working people. What they are doing, according to the law, is illegal but as another banner says: "The workers united will never be defeated".
Waterford is a demonstration that with well-organised action and support in the working class, you can push aside anti-trade union laws and the state.
With the workers in occupation, Unite should have immediately launched a campaign for nationalisation which clearly some of the workers support. However, the fact that the union leadership has focused exclusively on finding a private buyer, says they don't think nationalisation is an option.
The workers trust the union officials, who are former glass workers, and accept the focus of trying to find a private buyer, hoping that the issues will somehow be resolved. But clearly there is also unease and fear of what that approach will achieve. As one worker quoted in the Waterford News & Star said: "Either way we are going to be beaten but with a softer stick if Clarion takes over."
The reference is to private equity company Clarion Capital that is the preferred option of the union. But even the most optimistic projections are that if Clarion takes over with significant state financial assistance, only 300 jobs may be saved and pay and conditions will be substantially diminished. Any privateer will also try to avoid any responsibility for the pensions and redundancy deficits.
If Clarion were to take it over and even guarantee to keep the plant for a couple of years, it's most likely they will pull out soon afterwards, possibly leaving a Visitors' Centre, a shop and just enough manufacturing jobs to supply the shop.
Nationalisation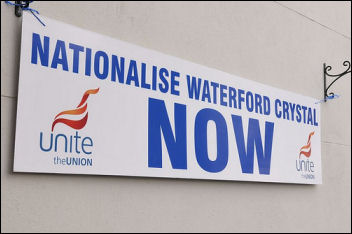 Waterford Crystal workers occupy and protest at sackings, photo Socialist Party Ireland
The 700 jobs should be fought for. Workers taking redundancy should be replaced with new workers and the pay and conditions, won over years of struggle, should also be defended. Nationalisation, under the democratic control and management of working people, is the only way a real future for Waterford Crystal and its workers can be guaranteed.
Nationalisation is entirely possible. The government is now finalising its 7 billion bailout of Allied Irish Bank and Bank of Ireland. They have just nationalised Anglo Irish Bank! A campaign to defend Waterford Crystal and the economy of southeast Ireland through nationalisation, would get a huge public response.
Unite should seize this opportunity. By waging a struggle for nationalisation they would be defending the working class of Waterford but also could transform the debate that is going on about how the economic crisis should be dealt with. All we hear is propaganda for a social solidarity pact, where the poor bail out the state and the rich.
A struggle for the nationalisation of Waterford Crystal could be the start of a new movement which puts the focus on the need for the state to use the wealth and economic resources that exist, to defend jobs and people's livelihoods, instead of bailing out big business and the rich.
---
>
'We won't strikebreak'
LAST WEEK Pdforra - the association of Irish soldiers, sailors and aircrew - demanded an assurance from the Irish government that its members would not be used to break strikes if unrest among workers in the public sector leads to industrial action. Its general secretary, Gerry Rooney, said it would be "morally wrong for soldiers to be ordered to break strikes arising from the imposition of the pensions levy".
Pdforra's demand came after the Taoiseach (prime minister), Brian Cowen, announced plans to impose a pension levy ranging from 3% to almost 10% on all public servants. He also scrapped pay rises due under the 'social partnership' with the Irish Congress of Trade Unions (ICTU) as part of a plan to cut €2 billion from public spending this year.
The leadership of the ICTU is desperate to avoid confrontation with the government but such is the scale of the attacks on workers' jobs and living standards - at a time when bankers and the bosses have been bailed out - that individual unions could ballot for strikes.
Donate to the Socialist Party
Coronavirus crisis - Finance appeal
The coronavirus crisis has laid bare the class character of society in numerous ways. It is making clear to many that it is the working class that keeps society running, not the CEOs of major corporations.
The results of austerity have been graphically demonstrated as public services strain to cope with the crisis.
The government has now ripped up its 'austerity' mantra and turned to policies that not long ago were denounced as socialist. But after the corona crisis, it will try to make the working class pay for it, by trying to claw back what has been given.
The Socialist Party's material is more vital than ever, so we can continue to report from workers who are fighting for better health and safety measures, against layoffs, for adequate staffing levels, etc.
Our 'fighting coronavirus workers' charter', outlines a programme to combat the virus and protect workers' living conditions.
When the health crisis subsides, we must be ready for the stormy events ahead and the need to arm workers' movements with a socialist programme - one which puts the health and needs of humanity before the profits of a few.
Inevitably, during the crisis we have not been able to sell the Socialist and raise funds in the ways we normally would.
We therefore urgently appeal to all our viewers to donate to our special coronavirus appeal.
---
In The Socialist 11 February 2009:

Bankers' bonuses - daylight robbery!

Vendetta continues against socialist fighter

JCB owner - still shovelling in the cash
---
Construction workers

Lindsey oil refinery strike: Workers score important victory

Construction workers' battle to defend jobs and conditions

Welcome to the JIB!

Motherwell Bridge bosses declare war on striking workers

Stop GSK job cuts
---
Socialist Party youth and students

Defend youth services

College students - keen to fight back

Save Charlotte Turner school!
---
Socialist Party campaigns

Tyneside Metro: Workers' action to stop privatisation

Carbon trading crisis creates bonanza for polluting firms

Exeter: Mobilising to stop the far right

Fast news
---
Car workers

Fight for jobs at Ford

Car industry in crisis - national meeting
---
Socialist Party workplace news

Wirral cuts: We need a new party

Victory for Salford Unison

Defend jobs at Salford University

Usdaw presidential election

Protest against the Unison witch-hunt

Greenwich council: An injury to one is an injury to all
---
International socialist news and analysis

Nationalise Waterford Crystal!

United Socialist Party members remanded on trumped-up charges
---
Socialist Party review

Slumdog Millionaire
---
Football

Reclaim the game
---
Home | The Socialist 11 February 2009 | Join the Socialist Party
---