Link to this page: https://www.socialistparty.org.uk/articles/6951
Posted on 24 February 2009 at 0:00 GMT
Students march against university fees
Anger takes to the streets
Campaigning students unions and organisations came together to take part in the first national action against fees for over two years, assembling at SOAS University (Malet street, London, WC1H 0XG). The demonstration marched past the offices of Universities UK, the main organisation arguing for an increase in university fees. Students are angry about a report recommending increases in fees.
Matt Dobson, Socialist Students national organiser, said "We are protesting at the big university fees hikes that were proposed in Sir John Chisholm's report released over Christmas. At a time when jobs are harder to come by, the government is only listening to those who want to raise the drawbridge and cut out today's young people from going to university."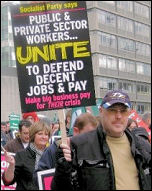 Some 120,000 people demonstrated in one of Dublin's biggest protests in living memory over spending cuts
"This demonstration will be an important step up in the fight against university fees. It will bring together not only activists from across the country, but also representatives from international student movements such as France and Ireland. The Campaign to Defeat Fees has organised several successful days of action, showing students want to campaign against all fees.
Laura Fitzgerald, of the Free Education for Everyone (FEE) campaign, in Ireland says "Government attempts to introduce fees by the backdoor in Ireland provoked a huge reaction amongst young people, with tens of thousands of young people marching at short notice. Campaigns need to be built internationally to force the government to retreat from these attacks."
The Campaign to Defeat Fees is one of the organisations that called the demonstration on February 25. This campaign is supported by John McDonnell MP, Tommy Sheridan and many more throughout the student and trade union movement.
Why not click here to join the Socialist Party, or click here to donate to the Socialist Party.
---