Link to this page: https://www.socialistparty.org.uk/issue/571/7049
From The Socialist newspaper, 19 March 2009
Fight tuition fees: fight for jobs: fight for a future!
Campaign to defeat fees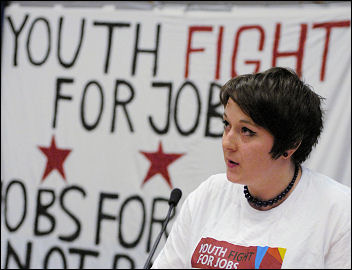 Socialist Party congress 2009, photo Paul Mattsson
Last month Wes Streeting, president of the National Union of Students, claimed that "moving to the right on tuition fees makes sense".
Stephen Burrell, Birmingham Socialist Students
Now a report for university vice-chancellors has been published claiming that fees should be increased to £5,000 - £7,000 a year. The report also dreamily claims that such a rise would not put young people off going to university!
University is already not an option for many young people, who are put off by fees of £3,145 a year. This is especially the case now, as the number of so-called 'graduate jobs' available shrinks rapidly. Many of those already studying are being forced to drop out because they cannot afford to continue their courses.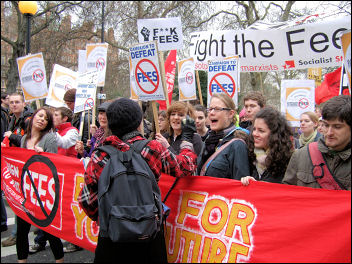 Fighting fees - student demonstration in central London, photo Rob Sutton
The Campaign to Defeat Fees (CDF), initiated by Socialist Students, has been leading the fight on the campuses for the scrapping of fees altogether. The CDF played a key role in the recent national demonstration of over 1,000 people against fees. University should be free for all those who want to go, not a privilege for the dwindling numbers that can afford it!
The government is planning to review higher education funding this year. Several universities have already started budgeting for the kinds of increases being mooted by this report. That shows how confident they are that the government will agree to their demands.
Meanwhile the National Union of Students has abandoned the struggle for free education. Instead they plan to plead with ministers, cap in hand, for no further increases in fees. This, at a time when the government has spent hundreds of billions to bail out the banks! We should be demanding money for students and education.
Now the Campaign to Defeat Fees is more important than ever if we want to stop these brutal attacks on education. So join us on the March for Jobs on 2 April, where we will not only be demanding an end to fees but decent jobs for all young people, who are being failed by capitalism. Our generation is now facing a fight for our future!
---
>
Youth march for jobs
"Truly terrible". This was how David Blanchflower, member of the Bank of England's monetary policy committee described the latest unemployment figures. With unemployment topping two million he's not wrong!
Sarah Sachs-Eldridge
A TUC survey revealed the horror of the crisis for those who have lost their jobs. On average there are ten job seekers for every vacancy, with some areas much worse. Hackney in east London, for example, has 37 claimants for every job.
And young people will suffer disproportionately. Unemployment among 16 to 24 year olds is already over 15%. Young people often have little or no savings to fall back on while also suffering a miserly rate of Job Seekers' Allowance at £47.95 a week.
Meanwhile, showing their priorities, the British government has ploughed a higher proportion of GDP into bailing out banks than any other country. 20% of national income has been poured into the black hole of the banking crisis. They have no solutions to the recession.
But construction workers at the Lindsey oil refinery showed what's possible. After only around a week of united strike action, Total, the employer, was forced to guarantee jobs on trade union rates of pay. It is such determination that is required. The Youth Fight for Jobs campaign gives young people a way to get organised and fight for our future.
Less than two weeks to go until the Youth March for Jobs hits town on Thursday 2 April. Passing through London's highest areas of unemployment from Southwark, through Tower Hamlets and Hackney, the march ends at Newham's ExCel centre where the capitalist leaders of the G20 nations are meeting. The march also passes the Bank of England and Parliament.
YFfJ is telling the G20 capitalist politicians - you won't make us pay for your crisis!
If you want to be a marcher, please get in touch with Youth Fight for Jobs on 020 8558 7947 or go to www.youthfightforjobs.com to sign up. Overnight accommodation is available for 1 and 2 April, but the organisers need to know in advance.
Donate to the Socialist Party
Coronavirus crisis - Finance appeal
The coronavirus crisis has laid bare the class character of society in numerous ways. It is making clear to many that it is the working class that keeps society running, not the CEOs of major corporations.
The results of austerity have been graphically demonstrated as public services strain to cope with the crisis.
The government has now ripped up its 'austerity' mantra and turned to policies that not long ago were denounced as socialist. But after the corona crisis, it will try to make the working class pay for it, by trying to claw back what has been given.
The Socialist Party's material is more vital than ever, so we can continue to report from workers who are fighting for better health and safety measures, against layoffs, for adequate staffing levels, etc.
Our 'fighting coronavirus workers' charter', outlines a programme to combat the virus and protect workers' living conditions.
When the health crisis subsides, we must be ready for the stormy events ahead and the need to arm workers' movements with a socialist programme - one which puts the health and needs of humanity before the profits of a few.
Inevitably, during the crisis we have not been able to sell the Socialist and raise funds in the ways we normally would.
We therefore urgently appeal to all our viewers to donate to our special coronavirus appeal.
---
In The Socialist 19 March 2009:

Fight tuition fees: fight for jobs: fight for a future!

Youth march for jobs
---
Unison witch-hunt

Stop the witch-hunt
---
International socialist news and analysis

Worldwide protests at killings of Tamils

Rosa Luxemburg - still relevant today

Ireland: Make the rich pay

Tibet: The 1959 uprising
---
Socialist Party campaigns

The miners were right!

End the 'benefits trap'

Liverpool University: Stop the cuts!

Tube strike ballot

Crisis in the legal aid system
---
Socialist Party congress

Socialist Party congress reports

Videos of Socialist Party Congress 2009

Perspectives for Britain and the world 2009
---
Socialist Party election campaign

The European elections and working-class representation

Lessons of the 2004 election

Campaign for a New Workers' Party

CNWP website
---
Socialist Party workplace news

Strike threat wins job back

Isle of Grain - Low-paying contractor exposed

£2.5 bn profit, but BT still announces pay freeze

Rhyl: One-day teachers' strike

Rooftop protest wins apology from Royal Mail

Airwave Solutions: Striking against job cuts

Salford university
---
Home | The Socialist 19 March 2009 | Join the Socialist Party
---