Link to this page: https://www.socialistparty.org.uk/issue/572/7078
From The Socialist newspaper, 25 March 2009
An appeal from Bob Crow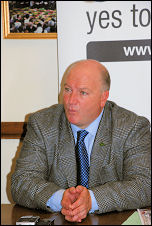 Press conference as RMT launches Euro challenge in 2009, photo Suzanne Beishon
"No2EU-Yes to Democracy aims to stand candidates as widely as possible across Britain, but we urgently need financial resources to allow us to do so. RMT is helping to fund the campaign, but a trade union's political fund is limited.
While New Labour and the Tories receive funding from corporate fat cats, No2EU-Yes to Democracy will have to rely on support from individual trade unionists. That is why I am appealing to all those who want the voice of working people to be heard above the deafening consensus of the main political parties, to give generously and collect donations from your work colleagues, friends and neighbours to allow us to field candidates and get our voice across loudly and clearly.
Please make cheques payable to 'No2EU-Yes to Democracy' and send to Unity House, 39 Chalton Street, London NW1 1JD, along with your name and address".
Why not click here to join the Socialist Party, or click here to donate to the Socialist Party.
---
In The Socialist 25 March 2009:

Capitalist crisis: Make the bosses pay!

March for jobs!

Map of Youth March for Jobs route
---
Socialist Party editorial

Tide of job losses must be fought
---
Socialist Party election campaign

Rail union launches euro election challenge

An appeal from Bob Crow

No2EU Financial Appeal pdf

NO2EU Supporter appeal pdf
---
Socialist Party campaigns

Students need a mass fighting organisation

Credit crunch hits home

Campaign for a new workers' party

MPs - an honourable profession!

Fast News
---
Socialist Party feature

The uncaring care sector

Pay for your own vetting
---
Socialist Party marxist analysis

State repression in Britain

Keeping (illegal) tabs on us
---
International socialist news and analysis

France: Three million take to the streets in national strike

Canada: "Fighting back makes a difference"

Mass demo in New York against budget cuts

Scotland: International Socialists conference a big step forward

Dundee Prisme occupation: Workers remain defiant

Stop the slaughter of Tamils: London campaign meeting
---
Socialist Party workplace news

Nom-dom jobs slasher

New allegations hit Unison's right wing

Unison Four to face further hearings

Wales: United battle needed to stop college cuts

Fighting for justice for cleaners!

PCS Land Registry jobs and pay campaign

Workplace news in brief
---
Home | The Socialist 25 March 2009 | Join the Socialist Party
---