Link to this page: https://www.socialistparty.org.uk/issue/573/7119
From The Socialist newspaper, 1 April 2009
The G20 leaders have no solution to the crisis...
Fight to defend every job
Youth March for Jobs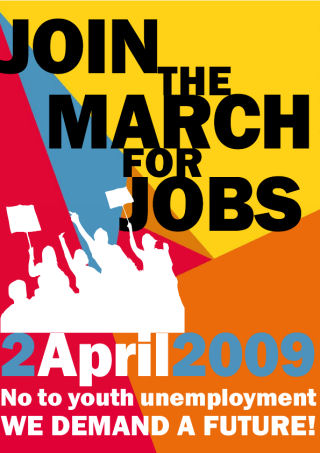 Join the march for jobs
The right to a decent job for all.
We won't pay for the bosses' crisis!
No to job losses. Open the account books to let workers see where the profits have gone.
Bail out workers not bosses. Nationalise big industries threatening closure or large-scale job losses.
For fighting trade unions, involving young workers and the unemployed.
For training linked to decent jobs. No to cheap labour apprenticeships!
For all apprentices to be paid at least the minimum wage, with a job guaranteed at the end.
No to university fees.
Support the Campaign to Defeat Fees.
No to bullying management. For decent working conditions.
For a living minimum wage of at least £8 an hour for all. No youth exemptions.
Share out the work. For a 35-hour working week with no loss of pay.
For government investment in socially useful jobs.
For a massive public programme of house building, renovation and infrastructure projects. No to profiteering private companies running these projects.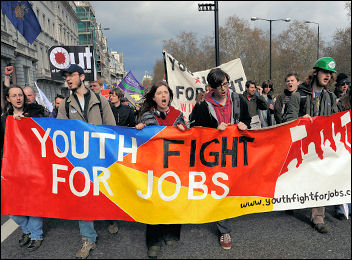 Youth Fight for Jobs and NO2EU on the 'Put People First' demo, photo Paul Mattsson
Donate to the Socialist Party
Coronavirus crisis - Finance appeal
The coronavirus crisis has laid bare the class character of society in numerous ways. It is making clear to many that it is the working class that keeps society running, not the CEOs of major corporations.
The results of austerity have been graphically demonstrated as public services strain to cope with the crisis.
The government has now ripped up its 'austerity' mantra and turned to policies that not long ago were denounced as socialist. But after the corona crisis, it will try to make the working class pay for it, by trying to claw back what has been given.
The Socialist Party's material is more vital than ever, so we can continue to report from workers who are fighting for better health and safety measures, against layoffs, for adequate staffing levels, etc.
Our 'fighting coronavirus workers' charter', outlines a programme to combat the virus and protect workers' living conditions.
When the health crisis subsides, we must be ready for the stormy events ahead and the need to arm workers' movements with a socialist programme - one which puts the health and needs of humanity before the profits of a few.
Inevitably, during the crisis we have not been able to sell the Socialist and raise funds in the ways we normally would.
We therefore urgently appeal to all our viewers to donate to our special coronavirus appeal.
---
In The Socialist 1 April 2009:

The G20 leaders have no solution to the crisis...

Fight for a future!

Youth Fight for Jobs conference

Why I'm marching

The grim reality of job-hunting
---
G20 protests

G20 Summit: Capitalism facing 'make or break'

Free market system killing our planet

UEL clampdown

Bail out workers, not Wall Street!
---
Socialist Party workplace news

Visteon workers occupy Belfast factory

Construction workers' protests continue

Socialist stands in Aslef leadership elections

College teachers strike in Eastbourne

Unison needs a fighting leadership: Leeds City Council

Whipps Cross Hospital

Unison elections
---
Socialist Party Marxist analysis

Economic crisis turning into political action
---
Socialist Party election campaign

No2EU - Yes to Democracy

Dave Nellist on the Politics Show
---
Socialist Party campaigns

Poor hit by price rises

No to privatised polyclinics

Gordon Brown meets the bankers

Sack the bankers not the workers!

Fast News
---
International socialist news and analysis

Now that the profits are drying up in the Indian software industry

Sweden: Socialist councillor viciously assaulted by Nazis
---
Home | The Socialist 1 April 2009 | Join the Socialist Party
---