Link to this page: https://www.socialistparty.org.uk/articles/7134
Posted on 6 April 2009 at 0:00 GMT
Enfield Visteon Update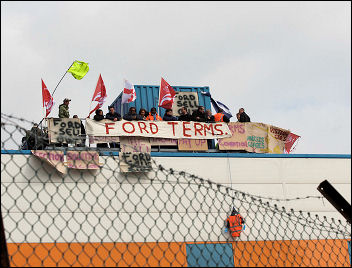 Workers occupy at Visteon Enfield, photo Paul Mattsson
On 31 March, after working an eight hour day, five minutes before the end of their shift, over 200 workers at Enfield Visteon got handed two bits of paper. These were to claim money off the government for lost pay. Nothing more.
Alex Gounelas, Socialist Party
With most workers having given over 20 years loyal service to Ford then Visteon they were shoved on the scrapheap with no redundancy or pension assurances. As Jay said: 'They used us like guinea pigs and then pulled the plug on us on Obama day when the cameras were pointing elsewhere.'
Nine and a half years after being promised 'jobs for life' under Ford and with £1,1 billion left in their coffers, how can Visteon still claim insolvency? is the question on the mind of many angry workers. And to add insult to injury, George Lawson (HR manager at Visteon) is still getting £2,000 a week. Lloyd says 'We need immediate action and funds in our accounts. Our mortgages are coming out at the end of April. They have taken the money out of our pockets and moved all the profits around to make it look like they have nothing.'
Visteon should be forced to open the books immediately to show where the money has actually gone. 'It's all a smokescreen' says Lloyd. Already they have set up a new company, Visteon Engineering Services, to siphon the remainder into. "They want the government to pick up the tab for their mess and for them to just walk away", says Phil.
With the negotiations still under way, the key question has been to get Visteon parts boycotted by workers at Ford. So far Southampton and Bridgend have done that. The basic demands on the hand-sprayed placards dotted around the balconies of the occupied site is give us our jobs back, on Ford terms and conditions as we were promised.
Unite leader Tony Woodley has called for a Europe-wide boycott of Visteon parts but as Kevin the convenor and leader of the occupation says: "We need to see action off the officials not words".
To keep their spirits up he and the other shop-stewards rounded the workers up to keep them informed. Three hours wouldn't go by over the last few days when an update wasn't given. The key now remains to keep the occupation going. "It's ours now", shouts one worker to his sister from the roof as she shakes her fist in support.
Why not click here to join the Socialist Party, or click here to donate to the Socialist Party.
---