Link to this page: https://www.socialistparty.org.uk/issue/578/7253
From The Socialist newspaper, 6 May 2009
Youth fight for jobs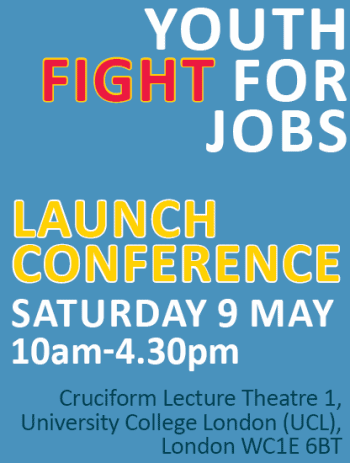 Youth Fight for Jobs conference
Launch conference
Saturday 9 May
10am-4.30pm
Cruciform Lecture Theatre 1, University College London (UCL),
London WC1E 6BT
Nearest tubes and trains: Euston, Warren Street and Goodge Street
Ticket costs are £3 unwaged / £5 waged.
Trade or student union-sponsored delegate tickets are £10.
This is higher to include a donation to subsidise unemployed young people coming to the conference.
Why not click here to join the Socialist Party, or click here to donate to the Socialist Party.
---
In The Socialist 6 May 2009:

Visteon workers show: Action gets results

Visteon UK struggle: the story of what happened

Visteon: Editorial comment
---
Defend victimised trade unionist

Rob Williams sacked by brutal bosses

Editorial: Decisive action needed against victimisations

Defend victimised trade unionist

Defending a shop steward, in spite of the anti-union laws

National Shop Stewards Network national conference
---
No 2 EU - Yes to Democracy

How can the BNP really be defeated?

Support for No2EU at Usdaw conference
---
Socialist Party news and analysis

Swine flu: The real issues behind the headlines
---
May Day

Workers look for alternative to bankrupt capitalism

Widespread protests in Pakistan

Thousands demonstrate in Hong Kong

Bigger May Day demos in Sweden this year

CWI Germany calls for a one-day strike
---
International socialist news and analysis

ANC returned to power in election landslide
---
Socialist Party campaigns

Save Lewisham Bridge Defend education

Youth fight for jobs: Launch conference

Youth fight for jobs website

Fight to save higher education

Save linguistics at Sussex!

Keep fighting for further education funding
---
Home | The Socialist 6 May 2009 | Join the Socialist Party
---