Link to this page: https://www.socialistparty.org.uk/issue/584/7445
From The Socialist newspaper, 17 June 2009
London postal strike
Standing up to bullying mail bosses
London postal workers are taking strike action for 24 hours, starting with the early shift on Friday 19 June.
Royal Mail bosses are ignoring the agreement made with the Communication Workers Union, following strike action in 2007, for the union and the company to 'work together' on improving the business.
Instead, management are pushing ahead in attacking postal workers' pay, terms and conditions.
The CWU has said that further strike action will be announced if no progress is made in negotiations.
Two postal workers spoke to The Socialist: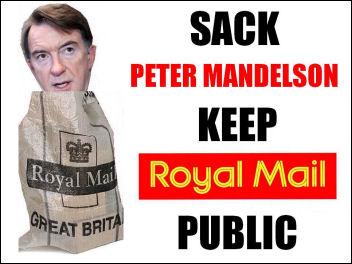 Sack Peter Mandelson: Keep Royal Mail Public - Post Office privatisation cartoon, photo Geoff Jones
"In our office a massive majority voted for action, only four people voted no. Everything is up in the air. Management are currently testing drivers - they send a manager to shadow the driver, taking notes, testing and timing everything. Realistically if everyone does everything by the book there's nothing to cut anyway.
Management in our office are looking to cut 23 duties from walks (deliveries), essentially 23 jobs. They'll be looking to cut three or four drivers and a couple in the office, out of 122 people working. Ten years ago there used to be 147 of us.
Increased workloads mean less care and attention to health and safety. Everyone knows the maximum weight of bag they're meant to carry and how to pick up a heavy bag, but in order to get the job done people ignore the rules and management turn a blind eye.
In the last two months they've medically retired two people with bad backs, and another with a permanent back injury is currently on rehabilitation doing about two hours work a day. There are even young guys whose muscles and joints are hurting. Management don't appreciate the physical nature of the job.
Their claim of falling mail volumes is a complete farce. They're probably comparing mail volumes now to the heaviest time in postal history about 10-15 years ago when mail sort was first applied at really cheap rates and everyone was sending out catalogues and all the normal junk mail. 20-30 years ago we had one bag for one round. Now we have high-capacity trolleys pushing around 120 kilos, or five to six bags per walk.
This is the last fight in keeping an important public service public and accountable. There is a directive from the EU which says you can't have a single subsidised mail provider and that the market must be opened up for 'competition'.
I'm definitely pulling out of funding the Labour Party through my union. There should be a big campaign of getting everyone out of funding the Labour Party. There's never been a better time for building an alternative, a left party. People really do want an alternative."
A Tower Hamlets postal worker, east London
"We are striking as Royal Mail bosses are trying to change a lot of our working conditions.
It looks like they want to take away overtime for filling in for other workers' shifts. So, if we are away, they will now get other workers to cover our work without any extra pay, so that's a big attack on our income.
They want to make us do extra work for free. They are using the term 'team working' to describe it, what they mean is cutting our pay. 'Team working' was part of the 'modernisation' proposals made two years ago. This caused a big backlash among the workforce so they postponed these changes following the strikes in 2007.
These cuts don't really wash after they have made record annual profits of £321 million.
At the moment we get paid extra for delivering leaflets and junk mail. I've heard they also want to change that so it is part of our normal workload, for no extra pay.
We currently get about £310 a week for our normal time, so we need to do extra work to get a decent income.
There's a rumour that they want to change our official contract status and make us part-timers, to stop us working full-time. That would take us down to a 30-hour contract, instead of 40 hours, which means our standard weekly pay would be cut to around £220."
A Walthamstow postal worker, north east London
Why not click here to join the Socialist Party, or click here to donate to the Socialist Party.
---
In The Socialist 17 June 2009:

Tories or New Labour - it's cuts, cuts, cuts!

A rat on Labour's sinking ship

Prepare for class war!

News in brief
---
International socialist news and analysis

Iran - mass protests erupt

Only working class action can end war threat in Korean peninsula
---
Socialist Party editorial

Recent industrial disputes bring important lessons for the future
---
Postal workers

Standing up to bullying mail bosses

CWU conference: Fighting for jobs and working conditions
---
Lindsey Oil Refinery construction workers

Lindsey workers fight the bosses' redundancy scam
---
Socialist Party workplace news

Victory at Linamar! Rob Williams reinstated

National Shop Stewards Network conference

Tube workers on strike

Glasgow cleaners score success
---
Anti-racism

Defeat the BNP: Build a socialist alternative

Protests at BNP
---
Socialist Party review

Billy Bragg's Miners' Strike Tour
---
Home | The Socialist 17 June 2009 | Join the Socialist Party
---