Link to this page: https://www.socialistparty.org.uk/issue/590/7622
From The Socialist newspaper, 12 August 2009
Protests flood in against Unison witch-hunt
Four Socialist Party members and Unison activists were declared guilty on trumped-up charges by a Unison disciplinary committee.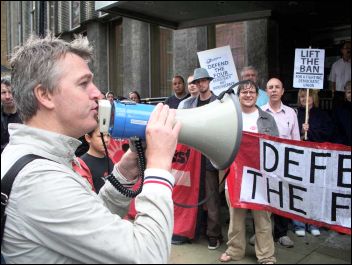 Glen Kelly addresses lobby of Unison HQ to protest against banning from office of Socialist Party members, photo Alison Hill
Glen Kelly, Unison national executive member and branch secretary of Bromley Unison and Onay Kasab, the branch secretary of Greenwich Unison have been banned from holding office in the union for three years.
Suzanne Muna, branch secretary of the Tenant Services Authority branch has been banned for four years and Brian Debus, branch chair of Hackney Unison has been banned for five years.
Suzanne Muna addresses lobby of Union HQ to protest against banning from office of Socialist Party members, photo Alison Hill
Their 'crime' revolves around a leaflet produced at the 2007 Unison conference challenging the decision of the conference standing orders committee to rule several key motions off the agenda.
They were charged with attacking the "integrity" of the standing orders committee and giving "racist offence" for using a cartoon of the three wise monkeys.
These ridiculous charges and the expensive trial Unison staged have provoked anger throughout the trade union movement. These are extracts from some of the hundreds of protests, mostly from Unison members, sent to Unison general secretary Dave Prentis and copied to the Defend the Four campaign, in the wake of the committee's decision.
---
>
What an outrageous accusation! It's completely absurd. I'm a black man and I consider myself sensitive to issues of racism and discrimination but this is completely ridiculous.
Furthermore, spurious allegations of this kind simply sets back the equal opportunities debate decades!
In my view, it is those who have made the accusation of racism who are the racists here. They obviously can't see a monkey without thinking about black people! What a shame.
---
>
The allegations are a farce and I would like to suggest an independent enquiry is carried out into how this ever got this far and who is responsible for wasting so much union time and resources on this matter.
If our rep goes you may as well say goodbye to the vast majority of Unison members at Bromley.
I urge the union to drop the charges immediately and concentrate on real issues like fighting the inevitable job cuts the next government will have to impose on the public sector.
---
>
I cannot believe this proud union is so undemocratic that it cannot tolerate a challenge to the authority of Conference Standing Orders Committee, it is incredible that no-one has challenged this body before.
I have been a trade unionist for over 40 years and a Labour Party member for much of that time... At all Labour movement events I have attended over the years, challenges to Standing Orders Committees have been routine and I have never heard it suggested that such challenges amounted to denigrating the integrity of SOCs or their members.
The traditional bronze statuettes of "Three Wise Monkeys" has never before been seen as racist and including Onay Kasab in such a charge makes a mockery of our Union's record in fighting racism and sexism.
---
>
I wish to protest strongly about the action which has been taken by Unison against Suzanne Muna. She has always been a very effective and unstintingly committed advocate for union members at the TSA. The action which is proposed against her would mean a devastating blow against the interests of all those members at a time of great change and uncertainty...
The charges of racism levied against her and her colleagues, as I understand them are self-evidently ludicrous. I think that Unison will lose many members at TSA if the proposed action against her is pursued. I cannot believe that this would be in the interests of the union.
---
>
This is dangerous in the extreme for future democracy within our great union when decisions are taken that could be seen as more akin to the McCarthy trials in the States and the Stalinist trials of a bygone era, than an open democratic union that sees free debate as healthy .
---
>
These actions are a gift to those who would paint "union bosses" as thugs and bullies who don't care about the wishes of their own dues paying members.
What's the image that labour needs in these incredibly difficult times? The thugs and bullies from On the Waterfront?
Come off it, brother Prentis. These are union brothers and a sister who have distinguished themselves in the fight for workers' rights and AGAINST racism, and you know it. Abandon the charges and admit it: your Conference and Disciplinary committees have made a really bad mistake.
---
>
What on earth are you playing at with the trumped up charges of breaching Unison rules...? There is clearly a witch-hunt going on here and it does our union, and the wider trade union movement as a whole, a grave disservice to be associated with such nefarious practices.
The anti-trade union elements that abound in government and opposition will just love this. Talk about playing into their hands. Disgraceful.
---
>
Having been an active member of the trade union movement for some 54 years, and still an active member, I find the decision to find four brothers and sisters guilty of racism as the most grotesque decision ever reached by a trade union body.
The decision would be hilarious if it weren't so tragic... since when is it disrespectful to challenge or criticise the decision of a standing orders committee?
If such action left trade union members open to disciplinary action then the number of members subject to discipline over the years I have been active would run into thousands.
---
>
The real reason why these four have been hounded, is that they are members of a different political party to that of you and other Unison leaders.
The only difference between your 'new' Labour party grouping and theirs is that your grouping has manoeuvred itself into a position of power in the national union hierarchy, whereas theirs sees supporting members actively at the grass roots level, as much more important and what the union should be about.
I know which representative of the union I would prefer in my corner, in a battle - and which I could trust the most.
---
>
How you can help the campaign
Hundreds of protest letters have been sent but the Defend the Four Campaign requests that more are sent where possible. Send protests to: Dave Prentis Unison HQ 1 Mabledon Place London WC1H 9AJ or e-mail: d.prentis@unison.co.uk Send copies to: Defend the Four Campaign, PO Box 858, London E11 1YG or e-mail: info@stopthewitchhunt.org.uk
Note that a groundbreaking Employment Tribunal is taking place from 10-14 August. The four are arguing that they are being discriminated against because of their "philosophical beliefs" (ie being members of the Socialist Party).
Defend the Four public meeting, Wednesday 23 September 7.30 ULU, Malet Street, London (near Euston station).
Please send donations so that Defend the Four can produce more leaflets, book rooms for meetings and keep in touch with supporters. Cheques payable to: Stop the witch-hunt. Send to: Defend the Four Campaign, PO Box 858, London, E11 1YG.
If you would like to receive e-mail updates on the campaign please send your e-mail address to: info@ stopthewitchhunt.org.uk. Check out the website: www.stopthewitchhunt.org.uk.
Why not click here to join the Socialist Party, or click here to donate to the Socialist Party.
---
In The Socialist 12 August 2009:

Jobs & services - not bankers' bonuses!
---
Anti-racism

Stop the BNP
---
Vestas

Vestas - occupation ends but the fight continues
---
International socialist news

Thomas Cook occupation, Dublin: "A living lesson for workers everywhere"
---
Workplace news

Postal workers: National ballot to follow strike wave
---
Unison witchhunt

Protests flood in against Unison witch-hunt
---
Marxist analysis: history

August 1969: Northern Ireland explodes - 'the troubles' begin
---
Socialist Party youth and students

New term approaching for students: Build the fightback!

Demonstrate Saturday 28 November in London

Higher education: Don't make young people pay for funding crisis

Internships = Exploitation

Grim prospects for young people
---
Anti-racism

BNP loses council by-election

Racists left speechless

Anti-fascist demo in Birmingham
---
International socialist news and analysis

South Africa: A cold winter, but mass action shakes Zuma

Afghanistan: 40 years of failure?

Torturous explanation
---
Workplace news and analysis

Industrial action works

Defend Corus workers' terms and conditions

Liverpool street cleaners and bin workers strike against fat-cats

Surrey council must buy back these homes now!

Engineering construction ballot

Rail strikes

South Yorkshire bus drivers plan more strikes
---
Labour history comment

Bryan Stanley's canonisation
---
Home | The Socialist 12 August 2009 | Join the Socialist Party
---