Link to this page: https://www.socialistparty.org.uk/issue/591/7660
From The Socialist newspaper, 26 August 2009
Daventry: socialist candidate in council by-election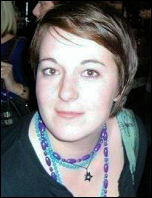 Megan Price, candidate for the Socialist Party in Daventry, photo by Northampton Socialist Party
MEGAN PRICE, 22, is standing as the Socialist Party's candidate in a district council by-election in Daventry, Northamptonshire, where she lives.
She can depend on plenty of family support, as her father Tom and older sister Bea are both party members. Her father and mother are former Labour members of the Tory-dominated council - her mother, Penny Price, held the Drayton ward where Meg is now seeking election.
The by-election on 10 September was forced by the jailing of a former Tory (turned Independent) councillor, Terry Mullett, on fraud charges. He was found guilty of illegally claiming more than £13,000 in council tax discounts and housing benefits.
Meg opened her campaign on 8 August with a street stall in Daventry at which 11 copies of The Socialist were sold and many signed a Youth Fight for Jobs petition.
She said: "The Tory council deserves a big shake-up. It gambled and lost a lot of taxpayers' cash in Iceland and is enthusiastically supporting crackpot plans to build a canal arm and marina along with swamping the traditional market town with thousands of unaffordable homes."
Meg calls upon any supporters in the East Midlands area to help in any way with the election campaign. She will be up against the major parties, together with the possible threat of a BNP candidate. Please call 01327 842395 if you wish to get involved.
Tom Price, Northants Socialist Party
Why not click here to join the Socialist Party, or click here to donate to the Socialist Party.
---
In The Socialist 26 August 2009:

Jobs and education not dole and debt
---
War and occupation

Afghanistan: Withdraw foreign troops
---
Socialist Party NHS campaign

No to health privatisation and 'the market'

Private Finance Initiative still threatens NHS future
---
Socialist Party campaign news

Vestas workers fight on

Ireland - workers campaign against Lisbon Treaty

Recession threat grows

Time to Fight Back: demonstrate at TUC conference
---
Socialist Party workplace news

Construction workers defending jobs and conditions

Postal strike reports

Fiddlers Ferry protest continues

South Yorks firefighters plan industrial action
---
Youth fight for jobs

No to Future Jobs Fraud scheme

Leaving education: comment

Youth Fight for Jobs action

Socialist Students and Youth Fight for Jobs campaign material
---
Socialist Party Marxist analysis

World recession, revolution and counter-revolution in Latin America
---
Socialist Party news and analysis

March shows growing opposition to far right BNP

Daventry: socialist candidate in council by-election

Passengers want publicly owned buses
---
Unison witchhunt

Unison witch-hunt/employment tribunal: The truth is coming out
---
Housing crisis

How safe are our houses?
---
Global Warming

Poorest suffer globally from climate change
---
Home | The Socialist 26 August 2009 | Join the Socialist Party
---