Link to this page: https://www.socialistparty.org.uk/issue/593/7987
From The Socialist newspaper, 15 September 2009
Death and destruction to prop up rotten regime
End the Afghan nightmare now
Bring the troops back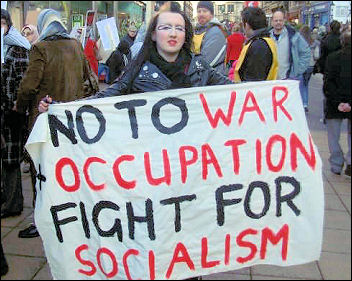 Lincoln Socialist Party against war, photo Lincoln Socialist Party
'OPERATION PANTHER'S Claw' was intended to prevent the Taliban from disrupting the Afghan elections. However the elections have been undermined from within by the ham-fisted attempts of supporters of president Hamid Karzai to rig the result. They are accused of inventing up to 800 'ghost' polling stations that returned thousands of completed ballots and taking over a further 800 to report tens of thousands of fake votes.
Ken Douglas
In Karzai's home province of Kandahar, 350,000 votes were cast compared to 25,000 estimated by election observers! When questioned he said that fraud is inevitable in a budding democracy!
This incredible statement was backed up by UK foreign secretary David Milliband, who stated that what is important is that Afghanistan should have a "credible government without any illusions that this is a Western-style democracy".
A UN-backed electoral complaints commission has ordered a recount in some of the southern districts but it remains to be seen whether Karzai's supporters will allow this to take place. Western governments will probably try to stitch together some power-sharing arrangement to save face but former government minister and presidential rival, Abdullah, has said that he will not take part in any deal with Karzai.
For the Western imperialist allies, sinking deeper into the Afghan quagmire, the election farce further undermines the legitimacy of the occupation in the eyes of ordinary people in their countries.
With almost daily reports of deaths and serious injury of soldiers, support for the occupation is leaking away. 24 UK troops have died in the last six weeks, compared to the five who died in Afghanistan between 2001 and 2005.
More US soldiers died in August than in any other month previously. A recent Gallup poll in the US reported that 61% of respondents thought the war was going badly. In other polls, a majority were in favour of withdrawing the troops.
President Barack Obama is currently considering a report from General Stanley McChrystal, his own commander in Afghanistan, telling him that current US strategy isn't working. Moreover, the Taliban control much of the countryside and have a presence in the major cities; they are running courts, hospitals and even a parallel government ombudsman.
Surge
McChrystal is asking for a surge of 40,000 to 50,000 extra troops, similar to the US strategy in Iraq, on top of the 68,000 that will be there by the end of this year.
Meanwhile the US-backed government barely exercises any real control outside Kabul. Every atrocity carried out by the allied forces, such as the bombing of the two oil tankers which killed and injured over 100 local villagers, further undermines support for the government.
Ordinary Afghans and the ordinary men and women that make up the occupying forces are paying the price for the capitalist allies' bankrupt strategy in Afghanistan. Over 1,000 civilians have been killed so far this year; and life expectancy at 44 is one of the lowest in the world. Soldiers are being killed and injured daily, while struggling with inadequate equipment and having to fight for compensation for the most terrible injuries.
Far from escalating the conflict, the troops should be withdrawn. But we need to build an alternative to the main capitalist parties that dragged us into this war. A new workers' party in Britain could provide a political voice to the millions that oppose this war.
---
>
Demonstrate
Saturday 24 October, central London (details to be confirmed)
Marking the eighth anniversary of the invasion of Afghanistan.
Called by Stop the War Coalition, Campaign for Nuclear Disarmament and British Muslim Initiative.
Why not click here to join the Socialist Party, or click here to donate to the Socialist Party.
---
In The Socialist 15 September 2009:

Big business to blame for climate change
---
No Job Cuts

No to cuts in jobs and services

Capitalist market prescribes diet of cuts

TUC conference - reactions to Brown's speech

TUC conference: Fightback rally
---
War and occupation

End the Afghan nightmare now
---
Socialist Party workplace news

Nationalise Anglesey Aluminium to save jobs

Rover - Gangster capitalists were treated as saviours

London RMT: Discussing an election coalition

Leeds council workers on indefinite strike

National Greed

Construction workers' pay - reject the deal!

The fight against the building blacklist
---
Socialist Students

Students left penniless

Cardiff: Youth Fight for Jobs

College workers strike against vicious cuts
---
Vestas

Vestas: the fight is far from over

Coventry Socialist Party councillors show support for Vestas
---
Socialist Party feature

Interview with POA leader Brian Caton
---
Socialist Party women

Victory - Decent jobs not exploitation
---
Socialist Party review

A life of revolution
---
International socialist news and analysis

Japan: Election ends Liberal Democrats' 54-year reign

Bangladesh: Angry protests at police attacks

Sri Lanka: Defiant Tamil protest
---
Home | The Socialist 15 September 2009 | Join the Socialist Party
---