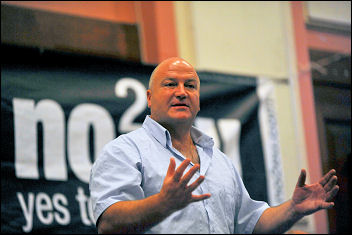 Bob Crow, RMT general secretary, speaking at the London No2EU election rally, photo Paul Mattsson
From Vectis buses, to Vestas, to Fords, to Royal Mail and more; on every strike and picket line in Hampshire in 2009 we encountered workers' anger at their employers' attacks, but also their dismay at the failure of the Labour government to give them support.
Portsmouth Socialist Party
The Trade Unionist and Socialist Coalition (Tusc) recently registered to stand candidates in the general election. This is a vital opportunity to give workers a voice in the fight for jobs and in defence of public services and working conditions.
The No2EU – Yes to Democracy coalition for the June 2009 European election meant that workers, trade unionists and socialists could unite in a common political fight to oppose the bosses' parties and the far right.
Since then the Portsmouth Rail Maritime and Transport Union (RMT) branch has campaigned for the RMT to continue to participate in an electoral challenge.
When asked why Portsmouth RMT supports the coalition, branch secretary Richard Howard said: "Since becoming a union rep, members are constantly asking why we can't do things. I have to explain that the law is not on our side and that past victories on balloting and workplace solidarity have been taken away by the New Labour government.
"The RMT has been evicted from the Labour Party and we want to have a voice. As socialists we have to fight for public ownership and win people to a real alternative."
'No2EU Wessex' has been transformed into 'TUSC Portsmouth' and support is growing to back Mick Tosh, an RMT activist and former RMT executive committee member, as a candidate in Portsmouth North for the general election.
Mick says: "Portsmouth needs a real debate on the things which concern our society. By standing in the forthcoming election and arguing for the principles of the People's Charter, to protect jobs, provide affordable housing for all and renationalise public services. That process will start gathering a needed momentum toward a genuine alternative for the less well off and working people of Portsmouth."
All the main parties are outbidding each other, under pressure from big business billionaires, to slash public services, jobs, wages and pensions in the biggest attack on working class people for decades. Tusc will give a real alternative to their agenda, saying 'we won't pay for their crisis'.
To promote the launch of the new coalition Bob Crow, RMT general secretary, is speaking at a public meeting in Portsmouth on Monday 25 January, alongside local activists.
TUSC Portsmouth launch
Speaker: Bob Crow
Monday 25 January 7.30pm
Unity Hall, Fratton, Portsmouth