Link to this page: https://www.socialistparty.org.uk/issue/620/9360
From The Socialist newspaper, 14 April 2010
Help build a socialist alternative in the general election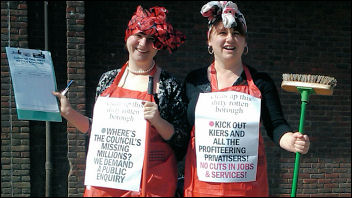 Clean out the dirty big business politicians - Walthamstow Socialist Party, photo S. Kimmerle
The present 'rotten parliament' will end in three weeks. But the MPs whose corrupt fiddling of their expenses have earned it this title are still desperately trying to cover up the extent of their venality. They have prevented their bar and restaurant bills from being published until after the general election.
Ken Douglas, Socialist Party Treasurer
The sordid details of their carousing would outrage workers whose jobs and services are going to be decimated after the election and who will be forced to put off their retirement. Young people who can't get a job or whose university places are being cut would also be disgusted.
Socialist Party election candidates are standing as part of the Trade Unionist and Socialist Coalition (TUSC). They aim to build a workers' alternative to these pro-big business politicians who are only interested in filling their pockets at our expense, while bailing out a financial system that has enriched a tiny minority in society to unprecedented levels.
Our candidates pledge to only take the wage of a worker if they are elected. Unlike other politicians we stand by our pledges - as was shown by present Coventry Socialist Party councillor and parliamentary candidate Dave Nellist when he was a Labour MP in the 1980s and 1990s.
A common response that Socialist Party canvassers are hearing on the doorsteps is 'all the parties are the same'. One Labour candidate has even copied the election leaflet of his Tory rival!
But the Socialist Party is different. We stand for an alternative to this rotten system and its rotten representatives - a socialist system where the needs of ordinary people are the priority and the wealth of society is democratically planned and used for the benefit of all.
If you support our ideas then we need you to support us financially. We depend on your contributions and donations and we can guarantee that every pound will be used to build a fightback and to put forward a socialist alternative to the future of misery and insecurity that is all that capitalism can hold out for us.
Click here to donate online
Donate to the Socialist Party
Coronavirus crisis - Finance appeal
The coronavirus crisis has laid bare the class character of society in numerous ways. It is making clear to many that it is the working class that keeps society running, not the CEOs of major corporations.
The results of austerity have been graphically demonstrated as public services strain to cope with the crisis.
The government has now ripped up its 'austerity' mantra and turned to policies that not long ago were denounced as socialist. But after the corona crisis, it will try to make the working class pay for it, by trying to claw back what has been given.
The Socialist Party's material is more vital than ever, so we can continue to report from workers who are fighting for better health and safety measures, against layoffs, for adequate staffing levels, etc.
Our 'fighting coronavirus workers' charter', outlines a programme to combat the virus and protect workers' living conditions.
When the health crisis subsides, we must be ready for the stormy events ahead and the need to arm workers' movements with a socialist programme - one which puts the health and needs of humanity before the profits of a few.
Inevitably, during the crisis we have not been able to sell the Socialist and raise funds in the ways we normally would.
We therefore urgently appeal to all our viewers to donate to our special coronavirus appeal.
---
In The Socialist 14 April 2010:

Main parties promise more of the same rotten cuts agenda

Voters face 'slash and burn' policies whoever wins election

Help build a socialist alternative in the general election
---
Socialist Party manifesto 2010

Socialist Party manifesto 2010
---
Socialist Party news and analysis

Afghanistan: Bring the troops back

Kyrgyzstan - dictator overthrown

News in brief

Defend welfare and public services

RMT union challenges far-right in Barking
---
Socialist Party workplace news

Postal workers call for 'no' vote on deal

NUT conference calls for 24-hour public sector strike

Newcastle University - support staff face attacks on jobs and pay

STOP PRESS - BA dispute

National Shop Stewards Network 2010 conference
---
Socialist Party election campaign

Lewisham - standing on our fighting record

Coventry's city-wide socialist election challenge
---
International socialist news and analysis

Russia: Putin - ten years of the man that no-one knew
---
Socialist Party features

Emperor's new clothes: the bosses' pet management theories

20 years ago: the Strangeways prison riot
---
Home | The Socialist 14 April 2010 | Join the Socialist Party
---