Link to this page: https://www.socialistparty.org.uk/issue/621/9402
From The Socialist newspaper, 21 April 2010
Portsmouth North: "An ordinary guy to represent ordinary workers"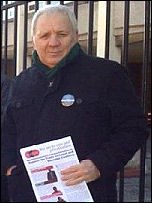 Mick Tosh, Trade Unionist and Socialist Coalition (TUSC) candidate
AS IBM announced a 'consultation' over threatened redundancies in Portsmouth, Mick Tosh, TUSC parliamentary candidate for Portsmouth North, called for solidarity with the workers facing job losses. Mick blasted New Labour MP Sarah McCarthy-Fry for failing to fight to protect jobs in the city.
Ben Norman
"Sarah McCarthy-Fry said that the decision to make 480 workers redundant is IBM's 'commercial decision to make'. That simply isn't good enough," said Mick Tosh. "As our MP why isn't she fighting to save those jobs? This happened during the Vestas campaign on the Isle of Wight nine months ago, Sarah and her New Labour colleagues consistently put company profits above the people they are supposed to represent and it has to stop.
"Every time working people in this area have faced job losses or are forced to fight for their conditions or pensions we have been there to support them, but that cannot be said for New Labour. That is the point of the Trade Unionist and Socialist Coalition, we are not only representing ordinary working people, we are ordinary working people representing ourselves.
"TUSC doesn't simply promise a fairer society, we are standing to build that society with working people by building a new political alternative that fights for us."
In Cosham, TUSC campaigners spoke to local hospital workers and many residents who simply felt betrayed by their current politicians. "We're losing our jobs today," said Linda, a shop worker on the high street. "We were promised that this area would be regenerated by a Labour government and the LibDem council, but that was clearly a lie. We'll be voting for TUSC, it's time that an ordinary guy like Mick was representing ordinary people like us."
"TUSC's Portsmouth North campaign isn't going to lose momentum after the election," said Socialist Party member Stuart Thompson. "When the government comes for our jobs and our services, we will be ready to face them.
"TUSC has brought us together and the coming fight will keep us together. We are calling for the current campaign team to become a potential branch of a new worker's party to continue, and win, this fight!"
Donate to the Socialist Party
Coronavirus crisis - Finance appeal
The coronavirus crisis has laid bare the class character of society in numerous ways. It is making clear to many that it is the working class that keeps society running, not the CEOs of major corporations.
The results of austerity have been graphically demonstrated as public services strain to cope with the crisis.
The government has now ripped up its 'austerity' mantra and turned to policies that not long ago were denounced as socialist. But after the corona crisis, it will try to make the working class pay for it, by trying to claw back what has been given.
The Socialist Party's material is more vital than ever, so we can continue to report from workers who are fighting for better health and safety measures, against layoffs, for adequate staffing levels, etc.
Our 'fighting coronavirus workers' charter', outlines a programme to combat the virus and protect workers' living conditions.
When the health crisis subsides, we must be ready for the stormy events ahead and the need to arm workers' movements with a socialist programme - one which puts the health and needs of humanity before the profits of a few.
Inevitably, during the crisis we have not been able to sell the Socialist and raise funds in the ways we normally would.
We therefore urgently appeal to all our viewers to donate to our special coronavirus appeal.
---
In The Socialist 21 April 2010:

Stop these savage cuts: support the socialist alternative
---
Youth fight for jobs

Young people facing a fight for their future

National Union of Students conference: Campaign needed against fees and cuts
---
Socialist Party editorial

Left candidates excluded from media
---
LibDem Surge

Big business as usual for Liberal Democrats

TV debate - Party leaders compete for the same policies
---
Transport

Volcanic eruption brings travel chaos: Planned and integrated transport system vital

Planes, trains and automobiles
---
Socialist Party news and analysis

Cameron turns back clock on women's rights

Banks use microloans to fleece poor

Fast news
---
Socialist Party election campaign

Doncaster - Jarvis's vicious sackings and workers' fightback

Portsmouth North: "An ordinary guy to represent ordinary workers"

Lewisham councillors' record

Trade Unionist and Socialist Coalition

Coventry: Standing up for public services

Colne Valley / Huddersfield: Kirklees' only fighting councillor

Spelthorne: "The trade union candidate guy"

A chance to put your questions to your local Trade Unionist and Socialist Coalition candidates.
---
Anti-racism

Why the BNP offers no way forward for working class people

Anti-BNP protest
---
International socialist news and analysis

Progressive Workers Federation of Pakistan founded

Sri Lanka parliamentary elections: Rajapaksa's clan consolidates its rule
---
Socialist Party features

National Care Service - fact or fiction?

1936 - A play about the Olympics
---
Socialist Party workplace news

Vote to boycott SATs

Civil service dispute continues

Fighting cuts at Coventry council

Strike ballot at Manchester Metropolitan University

Unison health conference

Laundry workers fight closure

Dover trade unions against privatisation

National Shop Stewards Network 2010 conference:
---
Home | The Socialist 21 April 2010 | Join the Socialist Party
---