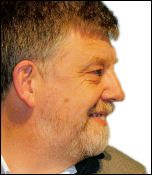 Socialist Party councillor and TUSC candidate Dave Nellist, photo by Paul Mattsson
IN COVENTRY local Socialist Party councillor Dave Nellist is TUSC candidate for Coventry North East, Socialist Party members Judy Griffiths (a CWU activist) and Nikki Downes (an NUT member) are TUSC candidates for Coventry South and Coventry North West. The Socialist Party will also contest all 18 wards in the Coventry city council elections.
Our candidates include sitting Socialist Party councillor Rob Windsor (who is defending his seat in St Michael's ward), trade union representatives, community activists, campaigners against student tuition fees and youth unemployment, veterans of the battle against Thatcher's hated poll tax, and leaders of the anti-PFI car parking charges campaign at Walsgrave Hospital.
All three establishment parties, New Labour, Conservatives and LibDems, aim to make working class people pay for the huge budget deficit by making huge attacks on our public services. All three parties agree that attacks on the public sector will be as severe as the 1980s, if not worse.
This means attacks on the NHS, services provided by local councils, the civil service etc. Look at the state of Coventry's roads – they prove that lack of investment in public services means real problems will be created!
Not only will any incoming government take the axe to our services, the use of private companies could also increase.
Socialists say that private companies have no role to play in provision of our public services. Look at the railways, have they got any better? Or look at the involvement of the Private Finance Initiative (PFI) at Walsgrave hospital – which amongst other things means private companies making huge profits from charging for using the car park.
The Tories running Coventry city council proposed budget cuts of £72 million over the next three years. What was the reaction of the 'opposition' Labour group? Every Labour councillor voted for the Tory cuts. Some opposition! Only the Socialists, Dave Nellist and Rob Windsor voted against the cuts. Only the Socialists can be relied on to campaign against cutbacks!
We stand for good quality public services. The privateers have no place providing them – we want public ownership, democratically run by elected representatives, the workers who run the services and those that use them.
Britain is a hugely rich country but wealth is concentrated amongst a tiny minority. There is enough wealth to guarantee 'top class' public services without making cutbacks. The problem is public services are never safe under this casino capitalist system that we have.
Dave Griffiths