Link to this page: https://www.socialistparty.org.uk/issue/621/9407
From The Socialist newspaper, 21 April 2010
"The trade union candidate guy"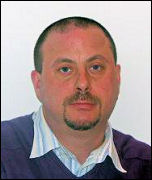 Paul Couchman, Trade Unionist and Socialist Coalition candidate for Spelthorne, photo Paul Couchman
AS THE Trade Unionist and Socialist Coalition Candidate for Spelthorne in Surrey, I delivered our 43,800 election leaflets to the Royal Mail last week. When I pulled into the loading bay half a dozen postal workers were gathered there - apparently waiting in anticipation for the arrival of the 'trade union candidate guy'.
Whilst unloading the boxes from my car another three or four workers came over and we had an impromptu 'workplace meeting'. None of the workers live in Spelthorne so couldn't vote for me but they were all very enthusiastic that someone was making a stand for the unions and for working people.
They said they had taken delivery of leaflets from a few parties but I was the only candidate who had stopped to talk. They promised me they would cherish my leaflets and have them delivered immediately.
Paul Couchman
Why not click here to join the Socialist Party, or click here to donate to the Socialist Party.
---
In The Socialist 21 April 2010:

Stop these savage cuts: support the socialist alternative
---
Youth fight for jobs

Young people facing a fight for their future

National Union of Students conference: Campaign needed against fees and cuts
---
Socialist Party editorial

Left candidates excluded from media
---
LibDem Surge

Big business as usual for Liberal Democrats

TV debate - Party leaders compete for the same policies
---
Transport

Volcanic eruption brings travel chaos: Planned and integrated transport system vital

Planes, trains and automobiles
---
Socialist Party news and analysis

Cameron turns back clock on women's rights

Banks use microloans to fleece poor

Fast news
---
Socialist Party election campaign

Doncaster - Jarvis's vicious sackings and workers' fightback

Portsmouth North: "An ordinary guy to represent ordinary workers"

Lewisham councillors' record

Trade Unionist and Socialist Coalition

Coventry: Standing up for public services

Colne Valley / Huddersfield: Kirklees' only fighting councillor

Spelthorne: "The trade union candidate guy"

A chance to put your questions to your local Trade Unionist and Socialist Coalition candidates.
---
Anti-racism

Why the BNP offers no way forward for working class people

Anti-BNP protest
---
International socialist news and analysis

Progressive Workers Federation of Pakistan founded

Sri Lanka parliamentary elections: Rajapaksa's clan consolidates its rule
---
Socialist Party features

National Care Service - fact or fiction?

1936 - A play about the Olympics
---
Socialist Party workplace news

Vote to boycott SATs

Civil service dispute continues

Fighting cuts at Coventry council

Strike ballot at Manchester Metropolitan University

Unison health conference

Laundry workers fight closure

Dover trade unions against privatisation

National Shop Stewards Network 2010 conference:
---
Home | The Socialist 21 April 2010 | Join the Socialist Party
---