Link to this page: https://www.socialistparty.org.uk/articles/9965
Posted on 8 July 2010 at 15:13 GMT
Linamar announces closure in Swansea: Union prepares challenge
208 workers at the Linamar plant in Swansea, and their families, face the dole as the Canadian car parts company announced the closure of the Swansea plant by the end of this year on Wednesday 7 July.
Alec Thraves, Swansea Socialist Party
The company had told the union that it would come to the talks with an 'option A' - confirmed product sourcing and a future, or 'option B' - a closure.
Within minutes, it was clear that the only negotiations would be over redundancy terms. Linamar took over the plant from Visteon in July 2008. Visteon was the company created by Ford in 2000 from its component plants. The other three Visteon plants, located in Basildon, Enfield and Belfast, went into administration last year.
Despite most of the Swansea workers being on terms and conditions and pensions 'mirrored' to that of Ford, Linamar assured the workforce that they had secured new engine work from Ford, most of which would be supplied to their engine plant in Bridgend.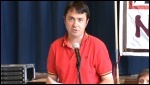 National Shop Stewards Network national conference 2010, Rob Williams, joint vice-chair NSSN and Linamar Unite convenor, photo Socialist Party
This would replace their existing work on power take off transmission units (PTUs).
However, as Rob Williams convenor of the Unite union in the plant, said: "They have kept their word on all the bad news, like the PTUs, but have reneged on all their positive promises like the new work and our contracts. Many of us would have lost £600 per month!"
Linamar workers believe that it is now clear that Linamar was only interested in securing the work from Ford, work that will now go to the German plant.
Ford has received financial assistance from government agencies. Ford should be forced to insist that Linamar makes the engine work in Swansea. The union in the Swansea plant will be meeting the workforce over the next few days, ahead of a mass meeting on Monday evening, to discuss fighting the closure.
Why not click here to join the Socialist Party, or click here to donate to the Socialist Party.
---