Reports and Campaigns

About the Socialist Party

Anti-capitalism

Anti-privatisation

Anti-war

Election campaigns

Environment

Health

Socialist women

Workplace

Youth and Students
---
Environment keywords:
---
Reports and campaigns:
Related websites
Trade Unionist and Socialist Coalition
National Shop Stewards Network
---
28 August 2015
Fleetwood socialist councillor aids anti-gas storage campaign
Fleetwood Town Council has unanimously voted to oppose gas storage plans at Preesall by the Halite company. The plans were recently approved by the Tory government despite massive local opposition.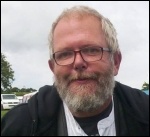 Speaking during the council debate, TUSC councillor Simon Roberts, a Socialist Party member, said:
"I believe we need a mass campaign to oppose gas storage, just like the anti-fracking campaign which as a Trade Union and Socialist Coalition town councillor I have been a long-term supporter of.
"The Tory government are advocating the pursuit of profit with no regard to either democracy or the health risk to our community."
The councillors' vote and Simon's comments were reported in the local press:
---
>
Before the council meeting Simon Roberts organised a public protest and sent out the following press release for it:
Stop Halite says Fleetwood town councillor
Fleetwood town councillor Simon Roberts (Trade Unionist and Socialist Coalition) has added his voice to the objections to the Halite gas storage plans in Preesall and called for a protest in Fleetwood ahead of the next town council meeting (Tuesday 25 August) which Halite company representatives will be addressing.
Councillor Roberts said:
"Residents objecting to this plan have my full support. The anti-democratic actions of the Tory government in imposing this, can and will still be resisted. I will be raising my objections to Halite at the next town council meeting and encourage concerned residents to join me from 6pm before the meeting and then come into it and express their concerns."
Simon is calling on residents to meet from 6pm by the Fleetwood Ferry tram terminus in Fleetwood. The town council meeting starts 7pm at the nearby North Euston Hotel, The Esplanade, Fleetwood, FY7 6BN.
Councillor Roberts added:
"I have opposed fracking from the start with my colleagues in the local anti-fracking campaigns and was proud to be on the massive demonstration in Preston when the county council turned down Cuadrilla.
"Instead of fracking and unwanted gas storage schemes, as a socialist I believe in investment into safe and clean renewable energy, and public ownership of the energy companies to bring down bills and enable a sustainable plan of energy generation."
Cllr Roberts is the Planning Ambassador for the town council and was elected in May on behalf of the Trade Unionist & Socialist Coalition (TUSC - www.tusc.org.uk).
Cllr Roberts can be contacted for comment on 07794 834 288 or councillorsimonroberts@gmail.com
---




LATEST POSTS

WHAT'S ON

CONTACT US
Locate your nearest Socialist Party branch Text your name and postcode to 07761 818 206
Regional Socialist Party organisers:
Eastern: 0798 202 1969
East Mids: 0773 797 8057
London: 020 8988 8786
North East: 0784 114 4890
North West 07769 611 320
South East: 020 8988 8777
South West: 07759 796 478
Southern: 07833 681910
Wales: 07935 391 947
West Mids: 02476 555 620
Yorkshire: 0114 264 6551

ABOUT US

ARCHIVE
---

2017

2016

2015

2014

2013

2012

2011

2010

2009

2008

2007

2006

2005

2004

2003

2002

2001

2000

1999