Reports and Campaigns

About the Socialist Party

Anti-capitalism

Anti-privatisation

Anti-war

Election campaigns

Environment

Health

Socialist women

Workplace

Youth and Students
---
Pensions keywords:
---
Reports and campaigns:
Stop the slaughter of Tamils (95)
Workplace and TU campaigns (8361)
Related websites
Trade Unionist and Socialist Coalition
National Shop Stewards Network
---
BMW strikers determined to win pensions dispute
On 19 April, workers at BMW's engine plant in Coleshill, Warwickshire, held the first of five separate 24-hour strikes against changes to their pension scheme. Part of the first national strike by BMW workers in the UK, the stoppage was called by Unite the Union after a massive 93% yes vote by 72% of workers.
The company is trying to force through a change from a final salary pension scheme (based on workers' contributions) to a defined benefit scheme (leaving retirement income at the mercy of stock market fluctuations).
This could see the 5,000 workers in the scheme losing up to £160,000 over the course of retirement. The move comes despite BMW making profits of £5.89 billion in the year to March 2017.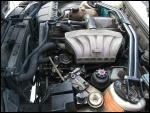 A BMW engine, photo Beemwej (Creative Commons)
There was a determined mood among those on the picket line to fight back, with one striker saying: "You plan out what you think you'll need for your retirement, and keep putting towards your pension pot, and then suddenly the company turns round and says you might not be getting what you thought you would. It's a disgrace".
Reports from inside the plants suggest that some sections were closed entirely, with managers desperately looking for qualified staff to keep production going on others.
Nick Hart, Birmingham Socialist Party
National Shop Steward Network supporters from Bristol and Gloucestershire joined pickets at the BMW's Swindon plant on 19 April. The pensions dispute takes place despite BMW promising to keep the scheme open to existing members when it was closed to new employees four years ago. Pickets were in a determined mood.
Matthew Carey, Bristol South Socialist Party
The strike continues with further action planned on the 3, 16, 18 and 24 May
---




LATEST POSTS

WHAT'S ON

CONTACT US
Locate your nearest Socialist Party branch Text your name and postcode to 07761 818 206
Regional Socialist Party organisers:
Eastern: 0798 202 1969
East Mids: 0773 797 8057
London: 020 8988 8786
North East: 0191 421 6230
North West 07769 611 320
South East: 020 8988 8777
South West: 07759 796 478
Southern: 07833 681910
Wales: 07935 391 947
West Mids: 02476 555 620
Yorkshire: 0114 264 6551

ABOUT US

ARCHIVE
---

2017

2016

2015

2014

2013

2012

2011

2010

2009

2008

2007

2006

2005

2004

2003

2002

2001

2000

1999