About Socialism 2014
---
>
Saturday 8th and Sunday 9th November
London
---
>
Includes: How can the Palestinians win liberation? Saturday 8 November 3pm
Discussion and debate, including live link up with socialists from Israel-Palestine
For the leaflet from the 9 August Gaza demo in London click here: www.socialistparty.org.uk/txt/332.pdf
---
>
Registration from 2pm Saturday and 9am Sunday at SOAS, Malet St, WC1H 0XG
---
>
Rallies 6.30pm Saturday and 3pm Sunday at Camden Centre, Judd St, WC1H 9JE.
---
>
---
>
Hostel accommodation at Clink 78, 78 King's Cross Rd, WC1X 9QG
---
>
Capitalism has created a world in which just 85 people have as much wealth as the poorest half of humanity.
While the rich get richer we are made to pay for a crisis of their system. The bosses and their politicians heap austerity upon our heads.
For them the lives of the vast majority are so much small change in their pursuit of ever greater profits.
This has not gone unchallenged. From Britain to Brazil, Seattle to South Africa, working-class people are fighting back to raise their living standards.
If you want to hear from those at the sharp end of these struggles then Socialism 2014 is the place to be.
This weekend of discussion and debate will involve socialists, trade unionists and anti-cuts activists from Britain and across the world.
This is your chance to discuss how to take the fightback forward and build the socialist alternative to cuts, crises and capitalism.
Speakers
Kshama Sawant
One of the most anticipated speakers will be Seattle Socialist councillor, Kshama Sawant. Kshama is a member of Socialist Alternative, co-thinkers of the Socialist Party in the USA.
Her election with nearly 100,000 votes has sent shock waves across the world. Writing in the British press Will Hutton said simply "This does not happen in the US." But things are changing.
Kshama's election victory has fed into a successful movement for a $15/hr minimum wage and inspired working people the world over.
Workers here have taken this lead and ran with it, beginning to campaign for £10/hr. This is the first time Kshama has spoken in Britain since being elected so don't miss your chance to see her.
We are also pleased to announce other speakers will include: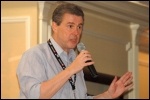 Mark Serwotka, general secretary of the PCS union who have repeatedly struck against austerity and campaigned for the biggest possible coordinated action by workers.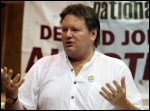 Ian Hodson, president of the bakers' union BFAWU which has been central to the growing Fast Food Rights campaign and recently came out in favour of a £10/hr minimum wage.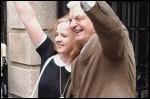 Ruth Coppinger, the Socialist Party's second TD (member of parliament) in Ireland, recently elected in a by-election. Ruth has been to the forefront of campaigns against the Irish government's austerity policies including the Water Tax.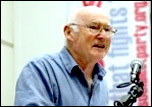 Peter Taaffe, general secretary of the Socialist Party and first editor of the Militant newspaper which celebrates its 50th anniversary this year.
---
>
Sessions
In addition to the main rallies, sessions (to be announced shortly) will discuss a wide range of issues.
---
>
Click here for tickets and prices or call 020 8988 8777. A 20% discount is in effect so book yours now.
---
>
---
>
Video of Kshama Sawant speaking on the victory of the $15/hour minimum wage campaign in Seattle, USA.
Video of Ian Hodson calling for a general strike and £10/hr minimum wage at BFAWU conference (video: Irwin Video)
Ruth Coppinger speaking on an anti-austerity protest in Ireland (video: USi Ireland)
Video of Socialism 2013 rally, including Mark Serwotka (from 14m30s) and Peter Taaffe (from 49m30s)




LATEST POSTS

WHAT'S ON

CONTACT US
Locate your nearest Socialist Party branch Text your name and postcode to 07761 818 206
Regional Socialist Party organisers:
Eastern: 0798 202 1969
East Mids: 0773 797 8057
London: 020 8988 8786
North East: 0784 114 4890
North West 07954 376 096
South East: 020 8988 8777
South West: 07759 796 478
Southern: 07833 681910
Wales: 07935 391 947
West Mids: 02476 555 620
Yorkshire: 0114 264 6551

ABOUT US

ARCHIVE
---

2018

2017

2016

2015

2014

2013

2012

2011

2010

2009

2008

2007

2006

2005

2004

2003

2002

2001

2000

1999