The Socialist 12 September 2018
Tories in chaos - general election now!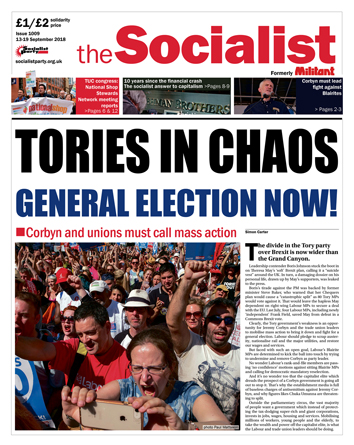 ---
Corbyn must lead in fight against the Blairites
---
Tories in chaos - general election now!
Enfield North Labour Party votes 'no confidence' in its MP
4m children in homes that can't afford fruit and veg
Fearful bosses call for 'fairer capitalism'...
School students in solitary: for full funding, not exclusion!
---
10 years since the financial crash - the socialist answer to capitalist crisis
---
NSSN rally: militant trade unionists share ideas to win for workers
TUC congress Brexit debate: unions must lead fight for a general election
Guards move closer to beating driver-only operation on Merseyrail giving confidence to other strikes
Cardiff Uber Eats couriers strike back against bosses
---
Nicaragua: With the people against the Ortega government and imperialism
Support for Putin's regime dips over major attacks on state pensions
Sweden: left and far right gain as establishment parties falter
---
Catford campaign against regeneration
Students unite and fight - free education now!
Reading council plans privatisation - set a no-cuts budget instead!
EDL outnumbered and confronted in Worcester
Fight against billionaire Newcastle boss Mike Ashley continues
---
When working class women dominated football
PO Box 1398, Enfield EN1 9GT
020 8988 8777
editors@socialistparty.org.uk