The Socialist 6 March 2019
Cuts must stop - boot the Tories out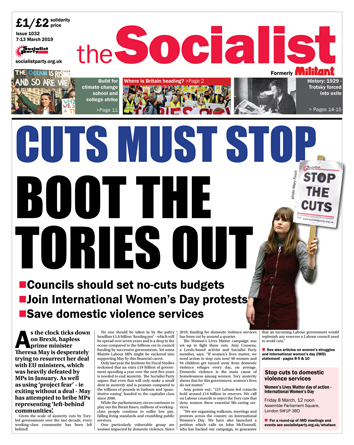 ---
No retreats: Corbyn must stand firm against Blairites
---
---
Boot out failing Grayling and the other Tory wreckers
Solidarity with Chris Williamson
Trade union action to end low pay now!
A&E 4-hour waiting targets scrapped - Save our NHS!
---
A socialist programme to end women's oppression
International Women's Day 2019: End oppression with fight for socialism
---
Leon Trotsky's struggle against Stalinism
---
Southampton: Fight council cuts
Cuts must stop - boot the Tories out
Wildfires hit Europe - build for 15 March student climate strikes
Swansea: Labour council tries to dodge no-cuts protest
Hull: support for anti-cuts policies at Corbyn solidarity rally
Hundreds of Tamils protest against death-threat brigadier
---
Women workers' militancy during the 'great unrest'
PO Box 1398, Enfield EN1 9GT
020 8988 8777

Link to this page: https://www.socialistparty.org.uk/issue/1032/28794
Home | The Socialist 6 March 2019 | Join the Socialist Party
Subscribe | Donate | Audio | PDF | ebook
A&E 4-hour waiting targets scrapped - Save our NHS!
NHS nurse
NHS England is backing a plan to scrap four-hour A&E waiting time targets 'within a year'.
The current target is for 95% of patients to be seen at A&E within four hours.
Ditching this will mean that many patients with so-called 'less serious' illnesses could be forced to wait for well over four hours - which is already a long time!
The government has previously talked about the idea and doctors warned that getting rid of the target would have a "near-catastrophic impact" on patient safety.
A&E staff have also expressed concerns about triaging - deciding the order in which patients are treated.
But, as I have seen in wards I have worked in, the current targets are already insufficient. Emergency units have not hit the target since July 2015 for example.
In Wales - where the target will not be scrapped - Maelor Hospital in Wrexham in January posted the worst waiting time for an accident and emergency unit in Wales on record. Only 49% of patients where seen in under four hours.
Instead of scrapping A&E targets we need a big increase in staff to meet patient demand.
We demand:
Reverse all cuts and privatisation to guarantee the needed funds to meet targets and treat patients
Urgently train more NHS staff to work in overstretched wards and hospitals
Trade union action to ensure they are paid a real living wage
Nationalise all the big companies leeching off the NHS, cancel the PFI 'debts'
Run the NHS under democratic workers' control as a real public service
---
In this issue
---
What we think

No retreats: Corbyn must stand firm against Blairites
---
Workplace news

Stop post-16 education cuts

Interview with a shop worker

MPs boost their own pay

Workplace news in brief
---
News

Boot out failing Grayling and the other Tory wreckers

Solidarity with Chris Williamson

Trade union action to end low pay now!

A&E 4-hour waiting targets scrapped - Save our NHS!

Them & Us
---
International Women's Day 2019

A socialist programme to end women's oppression

International Women's Day 2019: End oppression with fight for socialism
---
Socialist history

Leon Trotsky's struggle against Stalinism
---
Socialist Party reports and campaigns

Southampton: Fight council cuts

Cuts must stop - boot the Tories out

Wildfires hit Europe - build for 15 March student climate strikes

Swansea: Labour council tries to dodge no-cuts protest

Hull: support for anti-cuts policies at Corbyn solidarity rally

Hundreds of Tamils protest against death-threat brigadier
---
Opinion

Women workers' militancy during the 'great unrest'

The Socialist Inbox
---
Home | The Socialist 6 March 2019 | Join the Socialist Party