The Socialist 6 March 2019
Cuts must stop - boot the Tories out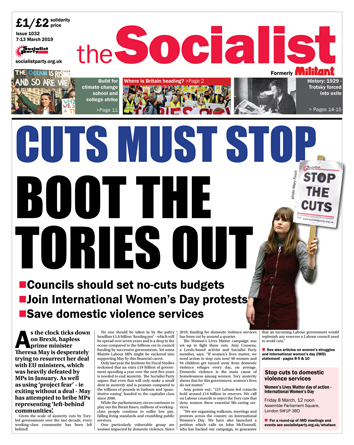 ---
No retreats: Corbyn must stand firm against Blairites
---
---
Boot out failing Grayling and the other Tory wreckers
Solidarity with Chris Williamson
Trade union action to end low pay now!
A&E 4-hour waiting targets scrapped - Save our NHS!
---
A socialist programme to end women's oppression
International Women's Day 2019: End oppression with fight for socialism
---
Leon Trotsky's struggle against Stalinism
---
Southampton: Fight council cuts
Cuts must stop - boot the Tories out
Wildfires hit Europe - build for 15 March student climate strikes
Swansea: Labour council tries to dodge no-cuts protest
Hull: support for anti-cuts policies at Corbyn solidarity rally
Hundreds of Tamils protest against death-threat brigadier
---
Women workers' militancy during the 'great unrest'
PO Box 1398, Enfield EN1 9GT
020 8988 8777

Link to this page: https://www.socialistparty.org.uk/issue/1032/28803
Home | The Socialist 6 March 2019 | Join the Socialist Party
Subscribe | Donate | Audio | PDF | ebook
International Women's Day 2019: End oppression with fight for socialism
Clare Doyle, CWI International Secretariat
On Friday 8 March, women and many men across the globe are striking, marching, protesting and celebrating International Women's Day in unprecedented numbers.
Not all those who mark this special day will know its historical origin. Chosen by socialists in 1910, International Women's Day has been a day for women workers to strike and demand a better deal.
More than ten years after the financial crash of 2007-08, there has been no real recovery in the world economy. In Europe and the US, policies of austerity have hit women hardest. Many of the hard-won steps forward in the lives of working women are being reversed.
While the super-rich get richer, the overwhelming majority of the world's population live in what seems like unending poverty. Even the capitalist class and its advisers are wary of the tsunami of revolt that could be already in the making.
In France, there has been an eruption of anger against the government of the one-time banker, Emmanuel Macron. The 'gilets jaunes' (yellow vests) protests are marked by the substantial participation of women. The entry of the organised working class, with sustained strike action, into this very determined 'uprising' would give it the necessary strength to overthrow not just the government but the bosses' rule in one of the most important countries in the world. This would indeed spread like a prairie fire!
In the 21st century, capitalism is rotten ripe for socialist change and the conditions exist for workers' movements to leap from country to country. To achieve the socialist transformation of society, a party is vitally needed that stands for workers' democracy and international socialism.
Labour movement
In the absence of major struggles on the political or industrial plane internationally, the vacuum has been filled by movements on important single issues on their own - like the environment, abortion rights, violence against women, anti-racism, caste discrimination, LGBT+ rights, and so on, which for the most part have not been linked up to the broader labour movement.
The 'new wave of feminism' is to be welcomed if it enhances women's struggle against the specific oppression they face in capitalist society. With the spread of the #MeToo phenomenon worldwide - there has never been more awareness of, and opposition to, the horrors for women of sexual harassment and rape.
At the same time, it is necessary for socialists to politically challenge pro-capitalist feminist ideas which are present in women's movements globally. As socialist feminists, we recognise that the real liberation of women is entirely linked to the need to get rid of capitalism which, based on inequalities of power and wealth, sustains and perpetuates women's oppression.
We base ourselves on the working class as the key force in society to bring about real and lasting change. We emphasise that it is only through a united struggle of the whole of the working class - not just individual sections - that this will be possible.
In many countries a working-class fightback is gaining momentum. In Scotland we saw 8,000 female council workers strike for equal pay and win, with the support of their male colleagues taking unofficial strike action. There have been walkouts at Walmart,
McDonald's, Google and Amazon on the issue of women's rights.
There have been mass strikes of women garment-workers in Bangladesh for a living wage and walkouts of women on the tea plantations in Sri Lanka for 1,000 rupees a day (just US $5.50). In Ireland, nurses and midwives have been on strike in a struggle over pay and conditions.
The oppression of women has been an endemic feature of all class societies. It will not be ended until the prerequisites for a classless socialist society are firmly established through the elimination of capitalism.
Class divisions
While education, upbringing and religion can play a big role in perpetuating stereotypes and encouraging the oppression and harassment of women, socialists see the roots of these attitudes in the division of society into classes. For slave-owners, feudal lords and capitalists, the family has been a vital construct for transmitting their property and wealth from one generation to another.
Over the years in many developed capitalist economies, public services have been fought for which have eased the burden of working-class women in relation to childcare and other 'domestic' responsibilities. Now, the clock is being turned back. Even the basic provisions of state health and education systems are under threat. To achieve lasting reforms, the active involvement of workers and their organisations - above all the trade unions - is required.
Members of the Committee for a Workers' International (CWI) have succeeded in reviving the tradition of striking on 8 March. In the Spanish state last year, at the initiative of the Sindicato de Estudiantes (student union) and Libres y Combativas, the socialist-feminist platform of the CWI in the Spanish state, over two million students and workers walked out to protest against the horrific levels of violence against women. This year, with even more determination, they will be striking and demonstrating.
In Belgium, there will also be walkouts from work and tens of thousands of women in Argentina and Italy will be demonstrating under the slogan 'non una di meno' (not one less). Likewise in Brazil against the newly elected, openly sexist President Bolsonaro, who turns his back on the vile murders of women and LGBT+ rights campaigners, and aims to reverse hard-won and vitally needed abortion rights.
In the US, International Women's Day marches will no doubt be fuelled by Donald Trump's world-renowned misogyny. There will be walkouts in southern Ireland, where one year ago the campaign to repeal the law forbidding abortion was nearing its historic victory. The pressure is now on for that same right to be available in the north. In Poland the struggle continues to reverse attacks on abortion rights...
---
In this issue
---
What we think

No retreats: Corbyn must stand firm against Blairites
---
Workplace news

Stop post-16 education cuts

Interview with a shop worker

MPs boost their own pay

Workplace news in brief
---
News

Boot out failing Grayling and the other Tory wreckers

Solidarity with Chris Williamson

Trade union action to end low pay now!

A&E 4-hour waiting targets scrapped - Save our NHS!

Them & Us
---
International Women's Day 2019

A socialist programme to end women's oppression

International Women's Day 2019: End oppression with fight for socialism
---
Socialist history

Leon Trotsky's struggle against Stalinism
---
Socialist Party reports and campaigns

Southampton: Fight council cuts

Cuts must stop - boot the Tories out

Wildfires hit Europe - build for 15 March student climate strikes

Swansea: Labour council tries to dodge no-cuts protest

Hull: support for anti-cuts policies at Corbyn solidarity rally

Hundreds of Tamils protest against death-threat brigadier
---
Opinion

Women workers' militancy during the 'great unrest'

The Socialist Inbox
---
Home | The Socialist 6 March 2019 | Join the Socialist Party