The Socialist 6 March 2019
Cuts must stop - boot the Tories out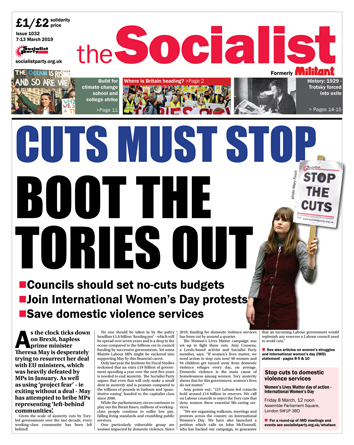 ---
No retreats: Corbyn must stand firm against Blairites
---
---
Boot out failing Grayling and the other Tory wreckers
Solidarity with Chris Williamson
Trade union action to end low pay now!
A&E 4-hour waiting targets scrapped - Save our NHS!
---
A socialist programme to end women's oppression
International Women's Day 2019: End oppression with fight for socialism
---
Leon Trotsky's struggle against Stalinism
---
Southampton: Fight council cuts
Cuts must stop - boot the Tories out
Wildfires hit Europe - build for 15 March student climate strikes
Swansea: Labour council tries to dodge no-cuts protest
Hull: support for anti-cuts policies at Corbyn solidarity rally
Hundreds of Tamils protest against death-threat brigadier
---
Women workers' militancy during the 'great unrest'
PO Box 1398, Enfield EN1 9GT
020 8988 8777

Link to this page: https://www.socialistparty.org.uk/issue/1032/28811
Home | The Socialist 6 March 2019 | Join the Socialist Party
Subscribe | Donate | Audio | PDF | ebook
Southampton: Fight council cuts
Elect Sue Atkins in Coxford
Southampton Socialist Party candidate - against all cuts and privatisation
Vote 'Socialist Alternative - Putting People First' on Thursday 14 March
Sue Atkins, the no-cuts Coxford by-election candidate
On Wednesday 20 February, protesters gathered outside the Civic Centre in Southampton to demonstrate against another round of council cuts, and to appeal to councillors to take steps to protect school budgets.
Under pressure, the Labour council has retreated from the closure of one care home - but shamefully voted to close another, Glen Lee, despite opposition from care workers' unions Unison and Unite.
Others came to protest against the introduction of parking charges for disabled drivers. With the Tory government's survival in doubt, why would any council take the axe to cut vital services now?
Schools are in crisis as a result of Tory government funding cuts. A young school pupil, Adam, aged ten and chair of his school council, spoke in front of the entire council. He appealed for them to stop the cuts to his school.
At a recent public meeting, Valentine Primary's National Education Union rep said everyone in the school was working to the limit, and the loss of any staff would make meeting the children's needs impossible.
Teachers have now voted by 100% to strike against job cuts. They have the Socialist Party's full support.
At local schools in Coxford, from 2012 to 2020:
Fairisle Infant School is losing £35,942 - £116 per pupil
Sinclair Primary School is losing £58,800 - £301 per pupil
Oasis Academy Lord's Hill is losing £343,900 - £566 per pupil
These cuts mean larger class sizes, cutting subjects like art and music, and losing teaching assistants and admin staff.
12 Southampton schools are in budget deficit. Those that aren't have made cuts to balance their budgets. The total deficit stands at over £4 million.
But this is just 2% of the council's £192 million budget! It's the equivalent of a chocolate bar in a family's weekly shopping. Can't the city council find that from its reserves to protect school budgets?
Central government has cut £136 million from the city's funding since 2010. In response, the council has cut 1,000 jobs. Yet we are paying higher and higher council tax bills for less and less services.
Councillors say there is little they can do. But that's a total cop out.
When councillors closed Oaklands Pool in 2012, they said they had no money. But then they found £1.5 million to refurbish it instead - in response to the massive support the campaign built.
Last year, the council underspent by £2 million, and increased its reserves by £4 million. Why isn't this money, our money, used to stop cuts to school budgets and the closure of Glen Lee care home?
Coxford's rebel anti-cuts councillors, Keith Morrell and Don Thomas, presented a no-cuts council budget to Southampton council in February 2013. This showed how the council could use its reserves and borrowing powers to set a no-cuts budget to protect jobs and services.
Such a stand by Southampton council today, against a minority Tory government on the brink of collapse, would attract mass support from council workers and their unions, and across the city, if linked to building a campaign to demand the restoration of government funding.
The by-election in Coxford on Thursday 14 March is an important opportunity to build on the campaigning work of Coxford councillors Keith, Don and Tammy Thomas, and the community which has worked with them to stop cuts to vital services.
If you agree with the stand taken by Keith Morrell and the successful campaigning work he helped to lead, then join us and get active building support for the fight to stop council cuts now.
Stop School Cuts community meeting
Monday 11 March, 7.30pm, Lordshill Community Centre, Cromarty Road, Southampton SO16 8LX
---
In this issue
---
What we think

No retreats: Corbyn must stand firm against Blairites
---
Workplace news

Stop post-16 education cuts

Interview with a shop worker

MPs boost their own pay

Workplace news in brief
---
News

Boot out failing Grayling and the other Tory wreckers

Solidarity with Chris Williamson

Trade union action to end low pay now!

A&E 4-hour waiting targets scrapped - Save our NHS!

Them & Us
---
International Women's Day 2019

A socialist programme to end women's oppression

International Women's Day 2019: End oppression with fight for socialism
---
Socialist history

Leon Trotsky's struggle against Stalinism
---
Socialist Party reports and campaigns

Southampton: Fight council cuts

Cuts must stop - boot the Tories out

Wildfires hit Europe - build for 15 March student climate strikes

Swansea: Labour council tries to dodge no-cuts protest

Hull: support for anti-cuts policies at Corbyn solidarity rally

Hundreds of Tamils protest against death-threat brigadier
---
Opinion

Women workers' militancy during the 'great unrest'

The Socialist Inbox
---
Home | The Socialist 6 March 2019 | Join the Socialist Party