The Socialist 3 July 2019
Same old millionaire Tories - Fight to kick them out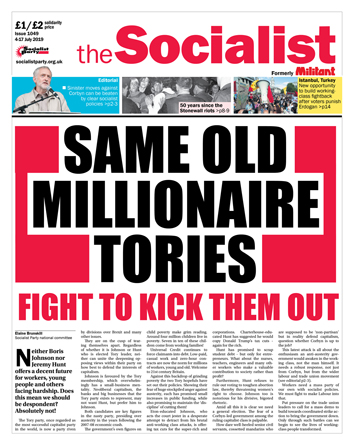 ---
Angry Usdaw members strike at Sainsbury's distribution centre over sick pay cut
Sick of your boss? Join a union! Fight for socialism
Construction workers protest in defence of union rights and against anti-worker EU
Socialists in PCS union launch new group to fight general secretary election
Steps forward and missed opportunities at Unite rules conference
London Arriva bus drivers vote for strike action over bullying and workload
Birmingham school strike for safe working environment
Lancashire Stagecoach drivers continue their fight
Birmingham uni workers strike against terms and conditions attacks
---
Sinister moves against Corbyn can be beaten by clear socialist policies
---
Same old millionaire Tories - Fight to kick them out
Nationalisation is answer to Southern Water cover up
Gig-economy exploitation doubles
Even social-care bosses say cuts have gone too far
---
Stonewall riots' legacy shows need for socialist struggle to win LGBT+ liberation
---
Socialist Party secures new offices
Angry Barking residents protest outside sales office
Tamil Solidarity Day: Linking up oppressed people's struggles
Coventry says no to congestion charge
Carlisle Labour/Lib Dem coalition cuts care home beds
Sell the Socialist and take out an e-subscription
Lincoln Uni NUS disaffiliation: a question of on-campus democracy
Stourbridge: Keep our college!
---
New opportunity to build working-class fightback after voters punish Erdogan
Irish health workers' anger boils over into strike action
---
TV: Years and Years - Engaging family drama pushes confused, reactionary message
PO Box 1398, Enfield EN1 9GT
020 8988 8777

Link to this page: https://www.socialistparty.org.uk/issue/1049/29320
Home | The Socialist 3 July 2019 | Join the Socialist Party
Subscribe | Donate | Audio | PDF | ebook
Same old millionaire Tories - Fight to kick them out
Elaine Brunskill, Socialist Party national committee
Neither Boris Johnson nor Jeremy Hunt offers a decent future for workers, young people and others facing hardship. Does this mean we should be despondent? Absolutely not!
The Tory party, once regarded as the most successful capitalist party in the world, is now a party riven by divisions over Brexit and many other issues.
They are on the cusp of tearing themselves apart. Regardless of whether it is Johnson or Hunt who is elected Tory leader, neither can unite the deepening opposing views within their party on how best to defend the interests of capitalism.
Johnson is favoured by the Tory membership, which overwhelmingly has a small-business mentality. Neoliberal capitalism, the banks and big businesses that the Tory party exists to represent, may not want Hunt, but prefer him to Johnson.
Both candidates are key figures in the nasty party, presiding over austerity in the years following the 2007-08 economic crash.
The government's own figures on child poverty make grim reading. Around four million children live in poverty. Seven in ten of these children come from working families!
Universal Credit continues to force claimants into debt. Low-paid, casual work and zero-hour contracts are now the norm for millions of workers, young and old. Welcome to 21st century Britain.
Against this backdrop of grinding poverty the two Tory hopefuls have set out their policies. Showing their fear of huge stockpiled anger against austerity, each has promised small increases in public funding, while also promising to maintain the 'discipline' of cutting them!
Eton-educated Johnson, who acts the court jester in a desperate attempt to detract from his brutal anti-working class attacks, is offering tax cuts for the super-rich and corporations. Charterhouse-educated Hunt has suggested he would copy Donald Trump's tax cuts - again for the rich.
Hunt has promised to scrap student debt - but only for entrepreneurs. What about the nurses, teachers, engineers and many other workers who make a valuable contribution to society rather than profit?
Furthermore, Hunt refuses to rule out voting to toughen abortion law, thereby threatening women's right to choose. Johnson too is notorious for his divisive, bigoted rhetoric.
Amid all this it is clear we need a general election. The fear of a Corbyn-led government among the ruling capitalist class is palpable.
How dare well-heeled senior civil servants, cossetted mandarins who are supposed to be 'non-partisan' but in reality defend capitalism, question whether Corbyn is up to the job?
This latest attack is all about the enthusiasm an anti-austerity government would awaken in the working class, not the man himself. It needs a robust response, not just from Corbyn, but from the wider labour and trade union movement.
Workers need a mass party of our own with socialist policies. We must fight to make Labour into that.
Put pressure on the trade union leaders to call for a mass demo to build towards coordinated strike action to bring the government down. Only through such battles can we begin to see the lives of working-class people transformed.
---
In this issue
---
Workplace news

Angry Usdaw members strike at Sainsbury's distribution centre over sick pay cut

Sick of your boss? Join a union! Fight for socialism

Construction workers protest in defence of union rights and against anti-worker EU

Socialists in PCS union launch new group to fight general secretary election

Steps forward and missed opportunities at Unite rules conference

London Arriva bus drivers vote for strike action over bullying and workload

Birmingham school strike for safe working environment

Lancashire Stagecoach drivers continue their fight

Birmingham uni workers strike against terms and conditions attacks
---
What we think

Sinister moves against Corbyn can be beaten by clear socialist policies
---
News

Same old millionaire Tories - Fight to kick them out

Nationalisation is answer to Southern Water cover up

Gig-economy exploitation doubles

Even social-care bosses say cuts have gone too far

Them & Us

What we saw
---
Stonewall riots

Stonewall riots' legacy shows need for socialist struggle to win LGBT+ liberation
---
Socialist Party reports and campaigns

Socialist Party secures new offices

Angry Barking residents protest outside sales office

Tamil Solidarity Day: Linking up oppressed people's struggles

Coventry says no to congestion charge

Carlisle Labour/Lib Dem coalition cuts care home beds

Sell the Socialist and take out an e-subscription

Lincoln Uni NUS disaffiliation: a question of on-campus democracy

Stourbridge: Keep our college!
---
International socialist news and analysis

New opportunity to build working-class fightback after voters punish Erdogan

Irish health workers' anger boils over into strike action
---
Opinion

The Socialist inbox

TV: Years and Years - Engaging family drama pushes confused, reactionary message
---
Home | The Socialist 3 July 2019 | Join the Socialist Party