The Socialist 3 July 2019
Same old millionaire Tories - Fight to kick them out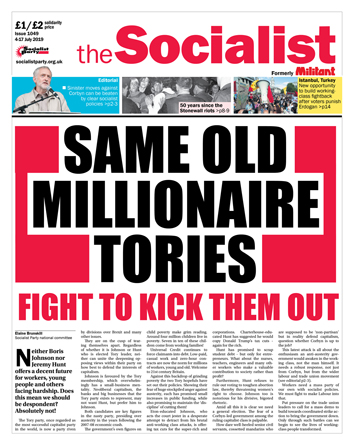 ---
Angry Usdaw members strike at Sainsbury's distribution centre over sick pay cut
Sick of your boss? Join a union! Fight for socialism
Construction workers protest in defence of union rights and against anti-worker EU
Socialists in PCS union launch new group to fight general secretary election
Steps forward and missed opportunities at Unite rules conference
London Arriva bus drivers vote for strike action over bullying and workload
Birmingham school strike for safe working environment
Lancashire Stagecoach drivers continue their fight
Birmingham uni workers strike against terms and conditions attacks
---
Sinister moves against Corbyn can be beaten by clear socialist policies
---
Same old millionaire Tories - Fight to kick them out
Nationalisation is answer to Southern Water cover up
Gig-economy exploitation doubles
Even social-care bosses say cuts have gone too far
---
Stonewall riots' legacy shows need for socialist struggle to win LGBT+ liberation
---
Socialist Party secures new offices
Angry Barking residents protest outside sales office
Tamil Solidarity Day: Linking up oppressed people's struggles
Coventry says no to congestion charge
Carlisle Labour/Lib Dem coalition cuts care home beds
Sell the Socialist and take out an e-subscription
Lincoln Uni NUS disaffiliation: a question of on-campus democracy
Stourbridge: Keep our college!
---
New opportunity to build working-class fightback after voters punish Erdogan
Irish health workers' anger boils over into strike action
---
TV: Years and Years - Engaging family drama pushes confused, reactionary message
PO Box 1398, Enfield EN1 9GT
020 8988 8777

Link to this page: https://www.socialistparty.org.uk/issue/1049/29329
Home | The Socialist 3 July 2019 | Join the Socialist Party
Subscribe | Donate | Audio | PDF | ebook
Irish health workers' anger boils over into strike action
Ciarán McKenna, Siptu Education Sector and Section Organiser, Dublin City University (personal capacity)
On 24 June over 10,000 workers in the Irish health service took strike action, ignoring Taoiseach (prime minister) Leo Varadkar's last minute plea to call it off. This was the first day in a campaign of escalating strike action.
All are members of Siptu, the largest union in Ireland, and are in the support grades - healthcare assistants, kitchen staff, porters, chefs - in public hospitals and healthcare facilities.
The key issue is the refusal of the health bosses to implement an agreed job evaluation scheme for these workers. But the strike has much wider political significance.
It is the third major strike action by health workers so far this year, as workers' anger increases in the face of the ongoing collapse of the public system.
In January and February 40,000 nurses and midwives struck over their abysmal and deteriorating conditions, as well as poor pay. This resulted in a very poor deal being agreed which did not fundamentally address the causes of the strike.
Paramedics, members of the National Ambulance Service Representative Association (Nasra - a branch of the Psychiatric Nurses Association), with the support and assistance of the Socialist Party, have been engaged for months in industrial action as they fight to gain recognition from the Health Service Executive.
The latter union is one of the few unions who remain outside of the Irish Congress of Trade Unions (ICTU), a body which has acted over the years as a permanent obstacle to workers taking militant action in defence of their interests.
The major problem is that every three years or so a 'deal' is struck between the public sector unions, through the ICTU, and the state, to regulate pay and conditions for public servants.
Since 2008 these deals have involved massive concessions by workers in terms of pay cuts, the deterioration of employment conditions and hugely increased workloads due to ongoing staff shortages.
Disgracefully, the deal struck in 2013 included some of the most authoritarian anti-worker legislation ever passed in Ireland.
The latest agreement reached in 2017 - the Public Sector Stability Agreement - is the first to engage in modest pay restoration. In reality, restoring pay back to where it was in 2008!
Privatisation
During the austerity years workers in the health services redoubled their efforts to keep the health system functioning despite massive cuts in state funding. Right wing governments have a clear agenda to underfund the system as a prelude to privatisation.
Although we do not have a national health service in Ireland, workers and the trade union movement nonetheless have a deep commitment to a public health system and the principle of free care.
The capitalist establishment in Ireland, however, are intent on privatising the public system by stealth. Part of this agenda is the systematic degradation of conditions for workers in the system.
There is an ongoing crisis in retention of doctors and consultants, this replicates the crisis in the retention of nursing staff.
Support staff have over the years taken on a huge amount of additional work and the job evaluation process was meant to ensure that this increase in work was matched by increases in pay. The health bosses, backed by a Thatcherite Fine Gael government, have decided to try fight the workers on this.
It is clear what the bosses' endgame is: to outsource trade union jobs in the support grades and farm out support functions to the private sector. Outsourcing is the key establishment tactic in the privatisation agenda. This cannot be allowed to happen.
Opposing outsourcing in all circumstances must be supported by all trade unions and socialists. We offer full support to the Siptu support workers in their struggle.
---
In this issue
---
Workplace news

Angry Usdaw members strike at Sainsbury's distribution centre over sick pay cut

Sick of your boss? Join a union! Fight for socialism

Construction workers protest in defence of union rights and against anti-worker EU

Socialists in PCS union launch new group to fight general secretary election

Steps forward and missed opportunities at Unite rules conference

London Arriva bus drivers vote for strike action over bullying and workload

Birmingham school strike for safe working environment

Lancashire Stagecoach drivers continue their fight

Birmingham uni workers strike against terms and conditions attacks
---
What we think

Sinister moves against Corbyn can be beaten by clear socialist policies
---
News

Same old millionaire Tories - Fight to kick them out

Nationalisation is answer to Southern Water cover up

Gig-economy exploitation doubles

Even social-care bosses say cuts have gone too far

Them & Us

What we saw
---
Stonewall riots

Stonewall riots' legacy shows need for socialist struggle to win LGBT+ liberation
---
Socialist Party reports and campaigns

Socialist Party secures new offices

Angry Barking residents protest outside sales office

Tamil Solidarity Day: Linking up oppressed people's struggles

Coventry says no to congestion charge

Carlisle Labour/Lib Dem coalition cuts care home beds

Sell the Socialist and take out an e-subscription

Lincoln Uni NUS disaffiliation: a question of on-campus democracy

Stourbridge: Keep our college!
---
International socialist news and analysis

New opportunity to build working-class fightback after voters punish Erdogan

Irish health workers' anger boils over into strike action
---
Opinion

The Socialist inbox

TV: Years and Years - Engaging family drama pushes confused, reactionary message
---
Home | The Socialist 3 July 2019 | Join the Socialist Party