The Socialist 3 July 2019
Same old millionaire Tories - Fight to kick them out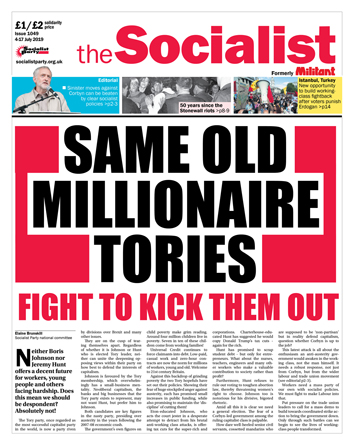 ---
Angry Usdaw members strike at Sainsbury's distribution centre over sick pay cut
Sick of your boss? Join a union! Fight for socialism
Construction workers protest in defence of union rights and against anti-worker EU
Socialists in PCS union launch new group to fight general secretary election
Steps forward and missed opportunities at Unite rules conference
London Arriva bus drivers vote for strike action over bullying and workload
Birmingham school strike for safe working environment
Lancashire Stagecoach drivers continue their fight
Birmingham uni workers strike against terms and conditions attacks
---
Sinister moves against Corbyn can be beaten by clear socialist policies
---
Same old millionaire Tories - Fight to kick them out
Nationalisation is answer to Southern Water cover up
Gig-economy exploitation doubles
Even social-care bosses say cuts have gone too far
---
Stonewall riots' legacy shows need for socialist struggle to win LGBT+ liberation
---
Socialist Party secures new offices
Angry Barking residents protest outside sales office
Tamil Solidarity Day: Linking up oppressed people's struggles
Coventry says no to congestion charge
Carlisle Labour/Lib Dem coalition cuts care home beds
Sell the Socialist and take out an e-subscription
Lincoln Uni NUS disaffiliation: a question of on-campus democracy
Stourbridge: Keep our college!
---
New opportunity to build working-class fightback after voters punish Erdogan
Irish health workers' anger boils over into strike action
---
TV: Years and Years - Engaging family drama pushes confused, reactionary message
PO Box 1398, Enfield EN1 9GT
020 8988 8777

Link to this page: https://www.socialistparty.org.uk/issue/1049/29344
Home | The Socialist 3 July 2019 | Join the Socialist Party
Subscribe | Donate | Audio | PDF | ebook
Steps forward and missed opportunities at Unite rules conference
Kevin Parslow, delegate, Unite union rules conference (personal capacity)
General union Unite's 2019 rules conference made some important steps forward but missed opportunities to develop member participation. It also passed amendments that could be dangerous to the left in the future.
Unite's retired and community members were both promised democratic regional and national structures.
The union's executive council has been forced, due to the opposition of its youth committees, to reverse its previous decision to limit the age of participation in the youth structures from 30 to 27. After it was changed in 2018, there had been a halving in the number of activists.
This reflects that many young workers don't get active in their union until their late 20s. However, contributions from young members showed that in hospitality and other sectors, some young workers are taking on representative roles even in their teens.
A proposal from Unite LE/1228 Waltham Forest Council branch, supported by Socialist Party members, for an annual branch delegate-based policy conference, fell when an executive council statement was carried.
This recognised the need to increase attendance at policy conference, and to look at the structure of all the union's conferences. But it halved the current attendance at future rules conferences as these were 'inward looking' and 'technical'.
A union's rules cannot be divorced from its industrial and political strategy as they reflect its attitude to action.
The passing of a rules amendment to raise the threshold for nominations for candidates seeking to become general secretary of the union were a step back. Previously, 50 nominations from at least two regions were necessary. Now, 5% of branches (currently over 3,000) in at least three regions will be required. This could be used against left candidates in the future if the right were to ever gain control of the union.
The danger of identity politics in the labour movement was revealed in the equalities debate. A delegate who raised serious questions about the effect of a rule amendment that could exclude some other groups from what will become the 'black and Asian ethnic minorities committee' was verbally attacked from the speakers' rostrum.
Rulebooks and laws cannot erase racism in a trade union or society as a whole. Only fighting policies against racism and austerity can begin to eliminate the divisions in organisations of the working class.
These policies were present at the Socialist Party meeting, introduced by party executive committee member Rob Williams. Attended by a number of delegates, including a Honda Swindon worker, the need for Unite to be at the head of movements fighting plant closures and redundancies was emphasised as part of the struggle for socialist change.
---
In this issue
---
Workplace news

Angry Usdaw members strike at Sainsbury's distribution centre over sick pay cut

Sick of your boss? Join a union! Fight for socialism

Construction workers protest in defence of union rights and against anti-worker EU

Socialists in PCS union launch new group to fight general secretary election

Steps forward and missed opportunities at Unite rules conference

London Arriva bus drivers vote for strike action over bullying and workload

Birmingham school strike for safe working environment

Lancashire Stagecoach drivers continue their fight

Birmingham uni workers strike against terms and conditions attacks
---
What we think

Sinister moves against Corbyn can be beaten by clear socialist policies
---
News

Same old millionaire Tories - Fight to kick them out

Nationalisation is answer to Southern Water cover up

Gig-economy exploitation doubles

Even social-care bosses say cuts have gone too far

Them & Us

What we saw
---
Stonewall riots

Stonewall riots' legacy shows need for socialist struggle to win LGBT+ liberation
---
Socialist Party reports and campaigns

Socialist Party secures new offices

Angry Barking residents protest outside sales office

Tamil Solidarity Day: Linking up oppressed people's struggles

Coventry says no to congestion charge

Carlisle Labour/Lib Dem coalition cuts care home beds

Sell the Socialist and take out an e-subscription

Lincoln Uni NUS disaffiliation: a question of on-campus democracy

Stourbridge: Keep our college!
---
International socialist news and analysis

New opportunity to build working-class fightback after voters punish Erdogan

Irish health workers' anger boils over into strike action
---
Opinion

The Socialist inbox

TV: Years and Years - Engaging family drama pushes confused, reactionary message
---
Home | The Socialist 3 July 2019 | Join the Socialist Party